Knot Genie Review & Giveaway (US)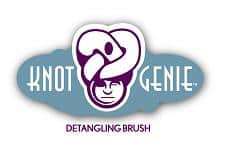 Does your child run away when you pull out the hair brush in the morning? My daughter has actually had tears in her eyes because she was anticipating having her hair combed when it was full of knots and tangles.
The Knot Genie™ is a great solution to end the nightmare of combing tangled and knotted hair. This detangling brush is uniquely designed and an innovative solution to getting out the knots in my daughter's fine hair. It works great on wet and dry hair and I love that it doesn't pull out clumps of hair but instead almost seems to glide through it. It is much a more gentle brush on the hair as opposed to a traditional brush. It is a great feeling to see my five year old using the brush herself with a big smile on her face and a relief for me to be able to comb her hair without tears!
My daughter has been wanting her hair to grow longer but it has been very challenging because it gets so tangled that it was breaking and her hair was only at shoulder length. I am very optimistic that by using the Knot Genie™, I can help her hair stay healthier and finally start to grow to longer lengths.
I am very impressed with the Knot Genie™ and even use it on my own long, highlighted hair. It feels like I am giving myself a scalp massage because the bristles feel really nice as it slips through my fragile hair without getting stuck. The Knot Genie™ is easy to use and it fits in my hand nicely…..combing out those knot and tangles has never been so simple!
You are invited to visit the Knot Genie™ website store to purchase your own Knot Genie™ (SRP $19.99) or to see the detangling brush in action as demonstrated on The Today Show!
Giveaway
One lucky reader will receive a Knot Genie™!
Check out the list of all my current giveaways!
Disclosure: I was not financially compensated for this post. I received a sample of the product for review purposes. The opinions are my own, based on my personal experience with the product.