Sobey's Shopping Adventure for Equal #EqualCanada #CBias
I consider myself to have adventurous tastes when it comes to food. I'm always up for trying something at least once. John is used to testing out new dishes with me. This week we are trying out a recipe for Jamaican Curried Rice made with Equal, a low calorie sweetener appropriate for people with Type 1 and Type 2 Diabetes. It can be used in the place of sugar for recipes! I found this recipe via the Equal Canada Facebook Page.
John and I headed out to our local Sobey's in Greenwood, NS which is about a 15 minute drive from our home. I wanted to get our shopping done quickly because we were expecting a Winter storm and I hate driving in bad weather.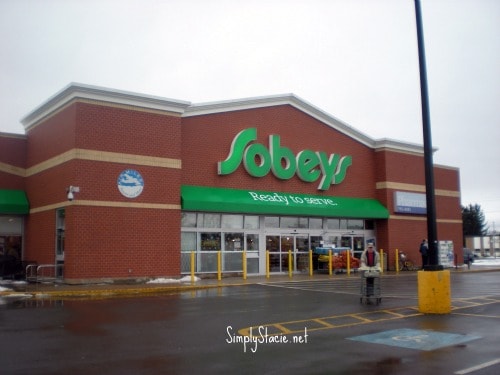 I had a list with me for all the ingredients for the recipe as well as some other groceries that we needed. We seem to always run out of things at the same time so our cart got full fast!
In the Baking aisle, I looked for Equal that would be suitable for this particular recipe and unfortunately Sobey's did not have what I was looking for. They only carried the Equal Sugar Tablets which is not suitable for cooking or baking, but would be good for John's morning coffee. This was all I could find…
I went to the Customer Service Desk to ask if they carried any other Equal products and was able to talk to John, the Grocery Manager. He said that they used to carry Equal in the blue container, but it had been discontinued. He even called the Sobey's in New Minas, NS to talk to the Grocery Manager there to see if they sold it. He offered to bring it in the next day since he lives in that area so I wouldn't have to make the 45 minute drive to New Minas. I thought that was so nice of him!  Unfortunately Sobey's in New Minas didn't carry it either.
John and I paid for our groceries and loaded up the car. I asked if we could try another store to see if we would have better luck finding Equal that I could use for my recipe.
We headed to Kingston, NS, Greenwood's sister town to Atlantic Super Store (part of the Loblaws chain of stores) to see if they had Equal.  I held my breath as we walked down the baking aisle and lo and behold there was a blue container of Equal Classic Spoonful! I also picked up a can of black beans because Sobey's didn't carry them either.
Two stores later we were done our shopping trip and were able to beat the storm! It started snowing as soon as we drove into our driveway so we timed that outing perfectly. Stay tuned for my cooking with Equal recipe post for Jamaican Curried Rice!
Connect with @EqualCanada on Twitter and Equal Canada on Facebook.
*This shop has been compensated as part of a social shopper insights study for Collective Bias. All opinions expressed are my own.*