P.F. Chang's Home Menu "Celebrate the Year of the Dragon" with a Red Envelope Celebration Giveaway (US)
My family and I celebrated the Chinese New Year on January 22nd 2012 with a fabulous feast from P.F. Chang's Home Menu dishes. While enjoying a delicious meal with my husband and children we wished one another prosperity, peace, happiness and longevity which we learned are all symbols of the Chinese New Year. I certainly felt very blessed with good fortune as I was surrounded by a family that I love deeply and good food to share and celebrate the "Year of the Dragon."
P.F. Chang's Home Menu entrees offer high quality, delicious meals that are very easy to prepare for a quick yet satisfying meal for my family that tastes like menu choices that I have enjoyed in P.F. Chang's restaurants.
There are many different flavors of Home Menu noodle entrees to choose from include Pepper Steak with Chow Fun Noodles, Grilled Chicken Teriyaki with Lo Mein Noodles, Garlic Chicken with Dan Dan Noodles, and Firecracker Shrimp with Yakisoba Noodles. My favorite is the Firecracker Shrimp with Yakisoba Noodles because it is bursting with flavors and fabulous texture from the vegetables and noodles. My children and husband love the flavor of the Grilled Chicken Teriyaki and the kids are always eager to eat their vegetables when enjoying this meal. I find that P.F. Chang's Home Menu products are readily available at my local grocery stores and I like to keep these on hand for those busy nights that I don't have time to prepare a meal from scratch or when we are craving delicious Chinese food.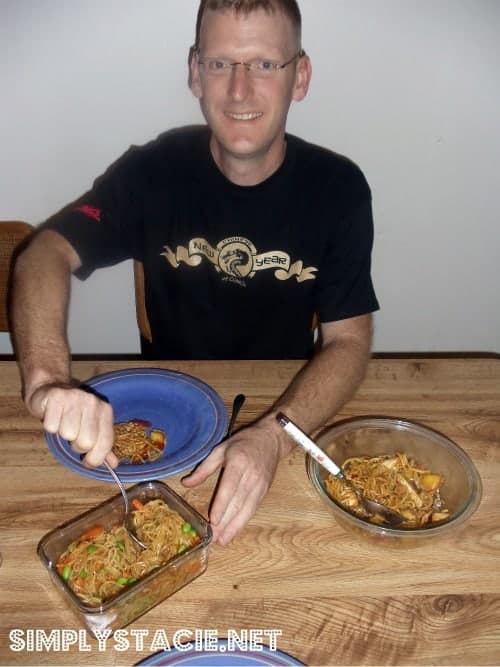 How did your family celebrate the Chinese New Year? On behalf of the Simply Stacie blog team…..we wish you and your family a wonderful "Year of the Dragon."
P.F. Chang's is so excited to share the good fortune that they are offering Simply Stacie readers a chance to experience a fabulous P.F. Chang's experience yourself with the Red Envelope Celebration giveaway event!
You can connect with P.F. Chang's on Facebook and Twitter too! P.F. Chang's Year of the Dragon Sweepstakes has now launched on their Facebook. page……hurry over to enter!
Giveaway
15 lucky readers will receive a fabulous prize package including 1 Grand Prize Red Envelope winner who will enjoy a "A night out at the Bistro (P.F. Chang's) with their Dragon and a night in enjoying Home Menu with their favorite Dragon. 14 Red Envelope First Prize winners will receive "Home Menu coupons, Bistro gift cards and a co-branded t-shirt!"

a Rafflecopter giveaway
Check out the list of all my current giveaways!
Disclosure: I was not financially compensated for this post. I received a sample of the product for review purposes. The opinions are my own, based on my personal experience with the product.