Holiday Gift Guide | Little Giant Xtreme Ladder Review
In October, my husband climbed our old, wobbly ladder into the attic and the ladder shifted causing him to slip hitting his lower back hard and catching himself stopping his fall. I watched all of this unfold and was terrified because it could easily have been a much more dangerous tumble to the ground. I remember thinking to myself…..there must be a better ladder on the market.
A few months later, I learned about the Little Giant Xtreme which is actually "24 ladders in one™!" I was very excited to test it out and I am thrilled to say that our old ladder has officially been retired forever.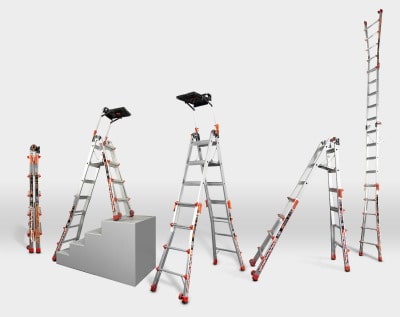 Little Giant Xtreme takes safety, comfort and performance very seriously with this revolutionary ladder design and features include:
50% Wider Rungs
Quad Lock Hinges™
Comfort Steps
Rock Locks™
AirDeck™ Workstation
Fuel Tank™ Paint Tray
Tip & Glide™ Wheels
Independent Adjustments
This ladder is amazing because it is so versatile and I am quite impressed with how stable it is in every position. I feel like I have more control and balance with the wider rungs and love the large standing platform because it gives me additional support for much better safety than our previous ladder.
It was a huge improvement climbing this ladder into our attic to bring down Christmas decorations. We also used it for hanging our Christmas lights up on the roof and we used the Rock Locks™ to adjust the height with the user friendly click system as needed whenever the roof pitch shifted. The Tip & Glide™ Wheels are also very helpful to move it around quickly as opposed to lugging around our old, bulky ladder. The Independent Adjustments make it easy to place the ladder in normally difficult spots such as on stairs and curbs.
The Little Giant Xtreme is equipped for every home improvement need and the Fuel Tank™ Paint Tray is quite useful as it will actually hold a full gallon of paint! My husband's favorite feature is the AirDeck™ Workstation (FREE for a limited time) which holds tools and equipment so he doesn't have to constantly climb up and down to retrieve what he needs…..I appreciate this additional safety feature that is also a very convenient time saver. The Little Giant Xtreme worked out great when he was cleaning out our rain gutters and had everything that he needed in one spot.
Here are additional benefits that you can receive by purchasing the Little Giant Xtreme:
Lowest price guarantee
FREE SHIPPING (Contiguous U.S. Only)
FREE AirDeck ™ Workstation ($49.99 value)
FREE Tip & Glide ™ Wheels ($39.99 value)
FREE Fuel Tank Paint Tray *($30.00 value)
LIFETIME Warranty
60-Day Money Back Guarantee **
Are you ready to replace your ladder with the Little Giant Xtreme ladder? You are invited to visit the Little Giant Xtreme website to watch this ladder in action. When you are ready to purchase the ladder you can set it up on a convenient 4 payment plan of $89.95 or make a single purchase and receive additional bonuses for only 359.80. I find this to be an excellent value for this ladder because it is durable and I expect it will last a very long time since it has a lifetime warranty, has added safety features which is priceless and it is so versatile and convenient to use. This would make a wonderful holiday gift idea for that special someone on your list……it is the best that I have ever used and my husband completely agrees that it is an extraordinary ladder!
*I did not receive any financial compensation for this review, though I did review a sample of the product for evaluation purposes. The opinions are based only on my experiences with the product.*