Book Review | Garden of Apples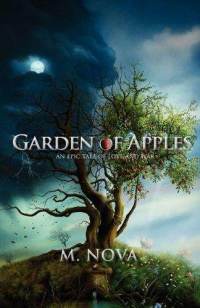 Title: Garden of Apples
Author: M. Nova
Book Synopsis:
In a forgotten land, a novice farmer, Adam Prestan, becomes possessed with temptation when he spies the indescribable beauty of an unadulterated wine heiress, Eve Telanis. In the spellbinding world of Eden, purity and courtship reign supreme. Defiance incurs death. Such stringency leaves these romantics seeking liberation from the rules and the key to unlock their emerging taste for one another.
As intimacy and adventure commence in this epic journey, Adam and Eve conceal their bond, stumbling on a remedy that offers them seclusion. Lucas Greetious, the expelled ex-captain of the governing force, holds the map to their secrecy. Adam and Eve chance everything, including their families, by indulging in a forbidden paradise and ignoring the deadly consequences.
Do they hold the power to siphon love and life from one to the other, or will they be solely responsible for breeding dissension and the demise of many? It only takes one bite. And one bite might just set them free …
My Review:
My emotions have been all over the place due to pregnancy and I've had little patience for certain things, and this book was unfortunately one of them. I found myself extremely frustrated with the writing style. M. Nova is a poet and it shows in every sentence of this book. I love poetry, but when I'm reading a novel I want it to be a novel, not something I have to over think. I found Nova's use of metaphors exhausting and distracting. I realize he was trying to create a world of romance and poetry is the language of love, but it can be taken to the extreme, especially when I have to re-read multiple paragraphs because I wasn't sure what was being said.
The people of Eden weren't believable. They were too all over the place. Again, maybe it was because I was pregnant when I read the book, but I just felt like no one could make up their minds about the type of people they want to be. Eden is a land of purity and peace, and yet they turn into an angry mob within a day. What is up with that? And Adam drove me nuts. He had the stupidest reason ever for not wanting to do the legal thing and publicly court Eve. I wanted to hit that boy on the back of the head so many times and yet I couldn't. And then I was just as angry at Eve for not hitting him for me.
The only character I truly liked was Adam's best friend, David. I loved his quirky nature and his unwillingness to back down when true love was within his grasp. He was refreshing and he did everything right, even when things turned against him. I can get behind a character like that.
Unfortunately I can't undo the fact that I am growing a baby, but I think my reaction would have been the same, if not quite as intense with the hormones that I'm dealing with.
If you enjoy a strong love story and aren't opposed to extreme poetic writing, give Garden of Apples a try. It wasn't for me, but I'm sure there are plenty of people out there who will like it.

*I received a copy of this book to review but I was not financially compensated in any way. The opinions expressed are my own and are based on my observations while reading this novel.*