Book Review | A Tale of Two Proms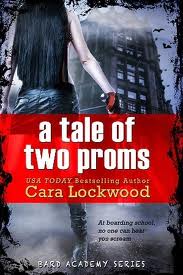 Title: A Tale of Two Proms (Bard Academy)
Author: Cara Lockwood
My Review:
A few years ago I discovered a YA paranormal series by author Cara Lockwood called Bard Academy. The first three books came out quickly, and I was eagerly awaiting a fourth, but it never happened. Just when I had given up hope, I came across the fourth (and most likely final) Bard Academy book, A Tale of Two Proms.
The Bard Academy series goes in this order: Wuthering High, The Scarlet Letterman, Moby Clique, and finally A Tale of Two Proms. You will definitely want to read this series in order–or recommend them to a friend or family member–if you like the basis of the series.
Bard Academy is a boarding school located on Shipwreck Island. Sophomore Miranda Tate finds herself sent there after she wrecks her dad's car and maxes out her stepmother's credit card. It doesn't take long for Miranda to learn that Bard Academy isn't like other schools; there is something different about the teachers, and Miranda and her friends are let in on the secrets of Bard Academy after their lives begin mirroring classic tales like Wuthering Heights, The Scarlet Letter, Moby Dick, and A Tale of Two Cities.
If you know your classics, you'll easily begin to see all of the parallels. A Tale of Two Proms is a clever take on Charles Dickens' A Tale of Two Cities. It is Miranda's last year at Bard Academy, and she has to make the decision of whether she should marry her fictional boyfriend, Heathcliff (yes, the most famous one of them all, straight out of the pages of Wuthering Heights), or if she should go to college and pursue her dreams of becoming a fiction writer.
Miranda's senior year at Bard Academy ends up being the most dramatic of them all when someone unleashes Heathcliff's true love, Catherine Earnshaw, from the pages of Wuthering Heights.
As I mentioned a few paragraphs ago, it's been two years since Moby Clique was published. To get ready to read A Tale of Two Proms, I re-read Wuthering High and The Scarlet Letterman and read Moby Clique for the first time all this week. Something just felt "off" to me about A Tale of Two Proms. First of all, Cara Lockwood wrote it in a different tense than she had the rest of the books, and also began it with a prologue. It took about half of the book before it felt like a true Bard Academy book; if I hadn't wanted to get to that happy ending that I had been waiting for these past couple of years, I probably wouldn't have finished the book.
There were a few plot decisions that Cara made that I simply didn't agree with. I disliked how she had both Ryan Kent and Parker Rodham remain at Bard Academy as fifth-year seniors; this was just too convenient. Ultimately, neither had a really important role in this book, and I could have done without them. Heathcliff also seemed to be doing things that he'd done in The Scarlet Letterman, basically working against Miranda. It's a bit trickier than that, and so I'll just leave it at this and say that it just didn't work for me; I wish she had figured out another way to get there. Additionally, Jane Austen is introduced as one of the ghost teachers in this book, even though in Moby Clique they had seemingly discussed why Jane Austen was not doomed to spend a purgatory period at Bard Academy.
There were a few classic Bard Academy moments, though, such as Samir getting the starring role in The Great Gatsby, Parker Rodham getting pursued by Mr. Collins in Pride and Prejudice, and Blade (the Goth girl of the group who has Satan posters on her dorm room wall) getting stuck in a feminine yellow dress and having to wear a corset.
If you have already read the previous Bard Academy books and want closure like I did, then you should definitely give A Tale of Two Proms a shot. If you haven't yet read the series, I definitely feel it is worth your time; I almost never re-read books, but the first books in the series are worth it. I'm still processing most of my feelings for A Tale of Two Proms. I got the ending I ultimately wanted, but it just didn't come about the way I had hoped.
*I received a copy of this book to review but I was not financially compensated in any way. The opinions expressed are my own and are based on my observations while reading this novel.*