10 Tips for Holiday Travel with Kids
It's no secret that December is the busiest time of year to travel. People are planning trips, vacations and road trips to visit family friends. For our family, we often travel during the holidays since it was a time when both myself and my husband have time off from work. I remember one year we drove for 24 hours in total across three provinces to visit my family in Ontario. Olivia was about 3 years old and it was her first long trip and I was nervous to see how she would do. She was fine, and we have taken many more road trips with both kids in the past 10 years and I have a learned a thing or two to make the most of traveling with kids especially during the holidays! Hotels.com asked me to share my tips for holiday travel with kids. I've come up with 10 tips that have worked well for our family!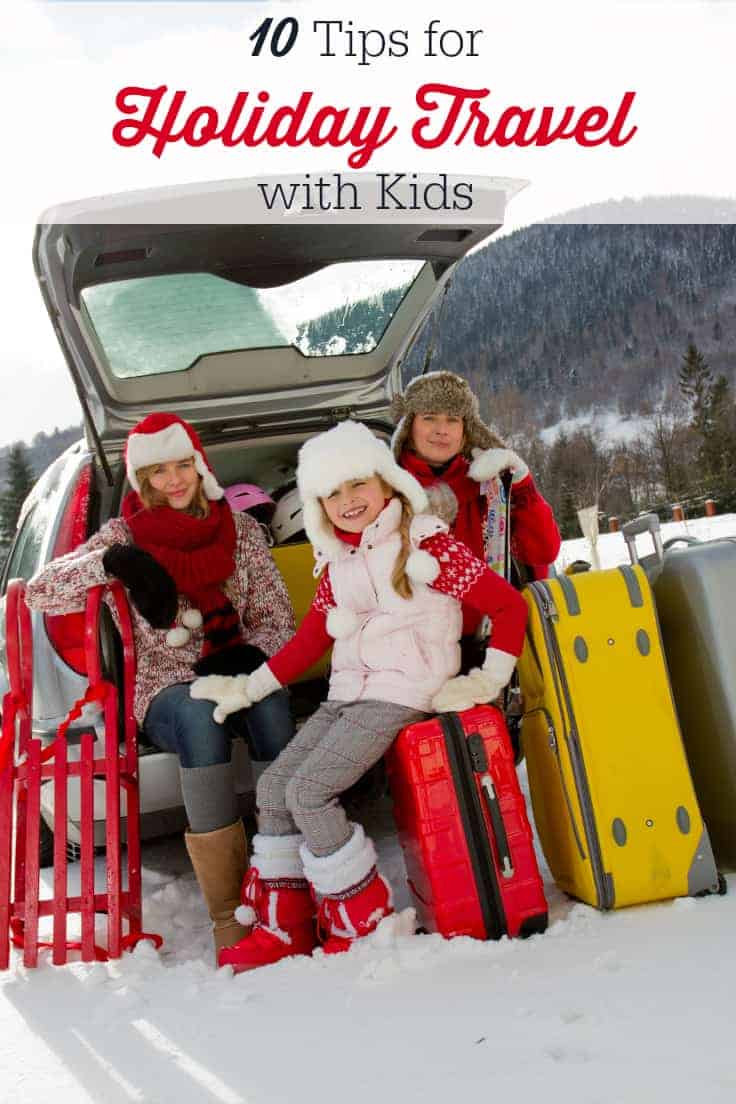 © Depositphotos.com/[Gorilla]
1. Keep them safe. Safety is key especially when traveling with such precious cargo. Make sure your First Aid Kit is well stocked and if you live in an area with winter conditions, a Winter Car Emergency Kit is key. Trust me, if road conditions are poor you will feel better knowing that you are prepared for the worst. Make sure the kids are buckled in properly and car seats are in working order.
2. Keep them busy. There's nothing worse than hearing the dreaded, "Are we there yet?" on a long road trip. You can cut back greatly on your kid's boredom by being prepared with lots for them to do. We use a portable DVD player that the kids can watch movies in the backseat and that usually keeps them quiet for a couple hours. Pick some Christmas movies for them to watch. We also pack their favourite toys and games. Often I will go to Walmart and buy some travel sized kid's games that are made just for the car. If all else fails, make up your own games. We have one where we go from A-Z listing different types of animals, foods, etc. My daughters and their dad play Punch Buggy where you shout out, "Punch Buggy No Punch Backs" when you see a Volkswagen. Whoever sees it first and shouts it out wins.  It's a bit annoying but it keeps them occupied and they have fun with it.
3. Keep them comfortable. Sitting in a car for a long time is no doubt uncomfortable for everyone. Bring a favourite pillow or even a neck pillow to support their head when they (hopefully) sleep. Blankets are a must to keep them warm.
4. Keep them clean. One of my pet peeves is a dirty vehicle. I always bring lots of wet wipes for dirty faces, hand sanitizer, extra napkins, plastic bags for garbage and even toilet paper (because you never know when you might need it!). Throw out the dirty garbage each time you stop for a bathroom break so it doesn't accumulate. I have found when I DON'T do this, the car fills up fast with wrappers, wads of tissue, etc and just stresses me out more.
5. Keep them fed. Snacks are a MUST! Add some healthy snacks to plastic baggies (ie. cut up veggies, fruit, raisins, cereal, etc). I also throw in some chips just for a treat. For drinks, I like to bring water bottles and juice boxes. I also make up a few sandwiches and wrap them in plastic as well. Put all your food in a small cooler that can fit on the floor of the backseat for easy access. A hungry child is a cranky child.
6. Timing is important. Traveling earlier in the day seems to be the best for us. The kids are still sleepy and it's daylight so the driver can see. I always feel like I waste my day driving when I leave in the afternoon. This way you get the travel out of the way earlier in the day! I'm not big on night driving especially in the winter. Visibility can become poor at the blink of an eye so it's better to travel during the day so at least you can see if you hit a snow squall. Also, the roads are busier during the holidays so it will take longer to get to your destination. Leaving earlier just helps you put away more distance during the day.
7. Stop Frequently. I recommend stopping every 2 to 4 hours during a road trip to break from the monotony of driving. It also allows the kids (and the parents) to stretch and use the facilities. I remember when we were potty training Olivia and I was always nervous that she would have an accident. I put her in Pull-Ups just in case. We stopped every two hours and she was fine for the whole trip- no accidents!
8. Organize the Car Before You Go: Keep the essentials with you inside (ie. wipes, napkins, toys, games, food, drink), but store the extras and items you won't be needing the trunk. This includes all the suitcases, extra drinks/food, and most importantly the presents! If you are bringing gifts with you, DO NOT put them inside with you. I did this and the kids poked holes in a few and even unwrapped some. Put them in a plastic tote in the trunk. Then they are out of sight, out of mind. Also, have on hand maps or a GPS in case you get lost!
9. Check Your Insurance & Registration. With the holidays, you can expect many police to be out in full force doing road stops checking for impaired driving. They don't always ask for your insurance and registration, but it's a good thing to verify that you have the correct paperwork with you in your glovebox.
10. Check Hotels. If your trip is more than an 8 hour car ride, I recommend stopping at a hotel for the night.  Not only will the kids be tired of being cooped up in the car, but also the parents will be too. Decide ahead of time what town/city you are going to stop in and check on Hotels.com for a list of hotels in that area. You can narrow down your search based on your budget, type of establishment, types of amenities, etc you want. Some people like to book ahead and that is a wise thing to do. If you don't find out if there is availability ahead of time you can be turned away. Trust me it's not fun to have no where to go so my recommendation is to decide where you want to go and call ahead!
What are your tips for traveling with kids during the holidays? I invite you to share your tips on the Hotels.com Facebook page!
*I was compensated by Hotels.com for the post. Opinions expressed are 100% my own.*