October 2011 Traffic Report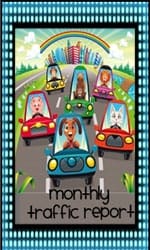 Welcome to my monthly traffic report. I do these every month to see where my traffic is coming from and I share my findings will all of you!
Top 10 Referring Sites
StumbleUpon: 102,591 visits
Online Sweepstakes: 6,561 visits
Facebook: 4,062 visits
Twitter: 3,838 visits
Blogger: 1,238 visits
Google.com: 1,150 visits
Canadian Tire: 737 visits
Contestgirl: 560 visits
Picket Fence Blogs: 274 visits
Contest Chest: 243 visits
Top 10 Referring Blogs
Top 10 Keywords
body by vi reviews: 679 visits
simply stacie: 561 visits
safslim reviews: 443 visits
real steel soundtrack eminem: 359 visits
real steel soundtrack eminem song: 249 visits
eminem real steel: 131 visits
real steel eminem: 117 visits
safslim review: 113 visits
safslim: 106 visits
elure reviews: 102 visits
Top 10 Most Viewed Posts:
What sites sent you the most traffic? Do we share any of the same keywords? What pages are the most popular on your site?