Holiday Gift Guide | KitchenAid 13 Cup Food Processor Giveaway (Can)
I would love the new KitchenAid 13 Cup Food Processor for Christmas (hint hint Mom if you are reading this!). KitchenAid is a brand I know and trust and you can always count on a quality product.  Plus a food processor would be so convenient to have when preparing holiday dinners.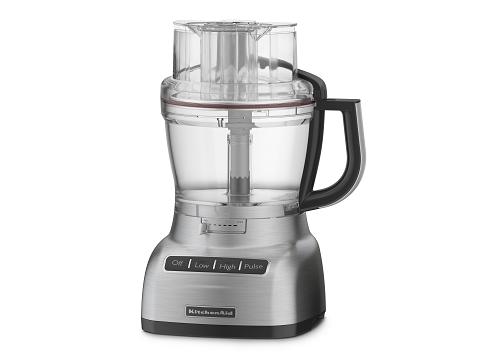 Here's a bit more about the KitchenAid 13 Cup Food Processor that one lucky Canadian reader is going to win!
New external adjustable, stainless steel slicing disc provides ultimate versatility
Dual shredding disc easily flips the disc from 2mm to 4mm to achieve ideal slicing thickness
Large 13-cup (2.75L) leak-proof work bowl, plus chef's bowl and mini bowl to efficiently
Ultra Wide Mouth Feed Tube™ adjusts to 3 different sizes to accommodate foods of varying sizes, including whole potatoes and cucumbers
17 precise food processing options for speed-controlled slice, shred, chop & puree functions plus three maximized slice, shred and puree/chop blades and bonus dough, egg whip & Julienne blades
4 speed-controlled functions
Comfort design side handle allows easy viewing while the food processor is in use
It retails for $399 and is available this month in stores that carry major appliances. It comes in silver, white and black. If you have someone who loves to cook on your list, consider picking one up for them as a gift this holiday season!
A yummy recipe you can prepare using your new food processor- Holiday Slaw!
This crunchy slaw with its sweet and tangy vinaigrette is a delicious and refreshing accompaniment to serve with turkey and trimmings. Using your food processor makes the preparation very easy and this salad can even be made days in advance.
½ large green cabbage, cored
1 small fennel bulb, trimmed
8 large red radishes, trimmed
6 green onions, trimmed
1 green pepper, cored
1 cup (250 mL) dried cranberries
½ cup (125 mL) white wine vinegar
1/3 cup (75 mL) each oil and maple syrup
2 tbsp (30 mL) lemon juice
1 tbsp (15 mL) Dijon mustard
¾ tsp (4 mL) salt
1. Cut the cabbage into 5 or 6 wedges. Position the adjustable slicing disc in the work bowl and, using the thin setting on High speed, push the wedges through the feeding tube. Transfer to a large bowl. Switch to the coarse side of the reversible shredding disc. Cut the fennel into quarters. Push the fennel and radishes through the feeding tube; add to the large bowl.
2. Cut the green onion and green pepper into chunks. Use the multipurpose metal blade to chop finely. Add to the cabbage mixture. Combine the cranberries, vinegar, oil, maple syrup, lemon juice, mustard and salt in a small saucepan set over medium heat; bring to a boil. Pour over the cabbage mixture and toss to coat. Chill for at least 1 hour or up to 4 days. Makes about 12 cups (3 L).

IMPORTANT: Please leave your entries above using the Rafflecopter form. Comments do not count as entries. If you are having issues with the form please leave me a comment here. It's a new software and feedback is appreciated!
To do the daily tweet: If the form will not let you put in your daily tweet, please fill out the main entry again and put "Do Not Count" in the Extra Info, Name or Email box. Then it should let you complete the daily tweet.