$50 Office Depot Gift Card Giveaway (US & Can)
I'm giving away a $50 Office Depot Gift Card! Keep it for yourself or give it to someone as a Christmas gift.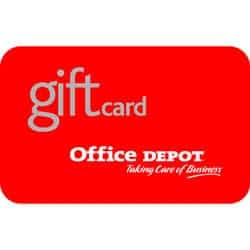 Entries will be to follow my Bloggers of the Month. I started this program back in the summer and its become quite popular. If you are interested in becoming a Blogger of the Month, please contact me.
Check out the list of all my current giveaways!
IMPORTANT: Please leave your entries above using the Rafflecopter form. Comments do not count as entries. If you are having issues with the form please leave me a comment here. It's a new software and feedback is appreciated!
To do the daily tweet: If the form will not let you put in your daily tweet, please fill out the main entry again and put "Do Not Count" in the Extra Info, Name or Email box. Then it should let you complete the daily tweet.