Teacup Piggies Winter Wonderland Collection Review & Giveaway (US)
My four year old daughter absolutely loves playing with her Teacup Piggies from Toy Teck. Check out my previous review for this popular toy line.
Just in time for the holidays, Teacup Piggies are back with lots of fun, new play sets featuring these adorable pigs. Get ready to enjoy a Piggy Snowmobile ride or watch them win the gold medal while zipping around the Champions Ice Skating Rink play set. Your piggy can even sport the latest "piggy fashions" with fun clothes and accessories too!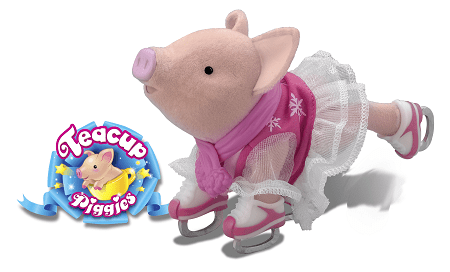 My daughter loves her "adopted pets" because these interactive toy pigs are miniature versions of real tea cup piggies. However, these piggies don't just oink but they also speak numerous phrases and I also like it when my daughter uses her imagination to become the "voice" of her piggies.
"Jade" is our newest piggy in the litter and Hannah enjoys dressing her, cuddling with it and even takes it with her on exciting adventures. After "signing" the birth certificate, my daughter immediately embraced her pig with a big hug and was delighted that it has 25 phrases and responses. She giggles when you turn the pig onto its side and it falls asleep nestled in a blanket.
The new Winter Wonderland collection and especially the Champions Ice Skating Rink Playset is a big hit. We live in Florida so anything that is a frosty wonderland, complete with "snow" fills my children with wonder and amazement. This play set features a Piggy that can "do a camel spin" which is my daughter's favorite trick and she loves to dress her new friend in the included snow shoes, ice skates, skate dress and ear muffs and scarf. There is also a park bench, lamp post, 2 ice props, Gold Medal and a Trophy. It is so much fun watching my daughter award her Piggy with the highest medal and share in the excitement of the moment.
I expect the Teacup Piggies Winter Wonderland toys, play sets and accessories from Toy Teck will be a big hit with young girls this season. My daughter is always asking me to play with her and this is one of the few toys that I actually look forward too. I love how it promotes the use of her imagination as well as interactive play.
You can connect with Teacup Piggies on Facebook and even check out some really cute commercials while you are visiting.
Giveaway
One reader is going to win a Piggy basic Set – includes one interactive piggy, teacup, accessories, and birth certificate!



Check out the list of all my current giveaways!
IMPORTANT: Please leave your entries above using the Rafflecopter form. Comments do not count as entries. If you are having issues with the form please leave me a comment here. It's a new software and feedback is appreciated!
To do the daily tweet: If the form will not let you put in your daily tweet, please fill out the main entry again and put "Do Not Count" in the Extra Info, Name or Email box. Then it should let you complete the daily tweet.
*I did not receive any financial compensation for this review, though I did review a sample of the product for evaluation purposes. This giveaway is not related to Facebook in any way. The opinions are based only on my experiences with the product.*