Happy Toy Machine Review
I have just discovered one of the most creative toy companies and it is called Happy Toy Machine. This unique toy maker allows you to create your very own personalized plush toy! My children and I excitedly gathered together at the computer to build our "masterpiece" that we affectionately named, FrankenRuble. I can't remember the last time that we had so much fun and it was a blast to watch my children's eyes light up as their creation "came to life".
Happy Toy Machine is very user friendly and uses 3D creator software. The options that are available to build your plush toy are virtually unlimited. To start making your creation you simply select the stuffed toy that you would like to build such as a puppy, cat, robot, monster, bear etc. Then you can select the body features (eyes, nose, hair, teeth, arms, legs, clothes & much more), shapes and even add your favorite color(s). If you click on something that you don't like when building your plush toy that is no problem because you can make any changes that you want to your creation until it is perfect. I also like that you can rotate it in 3D to see what it virtually looks like before finalizing your plush toy.
My children eagerly waited for FrankenRuble and his arrival was filled with excitement and joy. This adorable plush toy was so adorable and it was amazing to see that it looked exactly like the toy that we had built online at Happy Toy Machine. The quality is excellent, the pricing is affordable and the plush toy is very durable. He is so soft and just begs to be cuddled……..my kids are happy to oblige.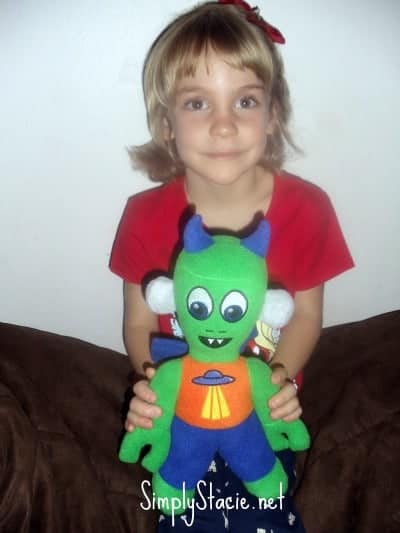 Happy Toy Machine is an award winning company and it is so easy to see why it has become so popular with these unique custom-made plush toys. Any time you build a toy at Happy Toy Machine it is a one-of a-kind original that is sure to be cherished by young and old(er) alike. It would make a wonderful and creative gift idea that I am confident will be a big hit!
Are you ready to have some fun? You are invited to visit Happy Toy Machine to try out the software and create your own plush toy.
*I did not receive any financial compensation for this review, though I did review a sample of the product for evaluation purposes. The opinions are based only on my experiences with the product.*