Get Free Gift Cards, Cash & Prizes with Superpoints
I'm seriously addicted to Superpoints! It's a reward program similar to Swagbucks where you can earn points to redeem cash & gift cards. I actually prefer it to Swagbucks because I find it easier to earn points. I have about 2100 swagbucks and have been doing it for 2 years. In contrast, I have earned 4500+ Superpoints in less than one month!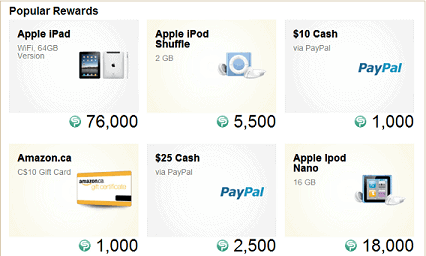 Every morning I spin the SuperLucky Button. I'm a platinum member so I get 100 clicks a day on the button. One day I earned over 100 points on the button. On average I get about 25 points a day. You can also earn points by doing surveys, watching videos and telling your friends about Superpoints.
Here's just a few of the prizes on Superpoints:
$5 Amazon.com or $5 Amazon.ca Gift Card – 500 superpoints
$25 Cash via Paypal – 2500 superpoints
Apple iPod Shuffle– 5500 superpoints
Amazon Kindle– 19000 superpoints
$500 Cash via Paypal– 50,000 superpoints
Apple MacBook Pro– 240,000 superpoints
Right now, I'm aiming for the $500 cash since I'm Canadian and they don't ship to Canada. Canadians can still join though and we can earn the cash & gift cards. They even have Amazon.ca for us!
Superpoints is by INVITE ONLY. If you want on my invite list, please fill out this form and I'll send one to you as soon as I can. Or you can redeem one of these invite codes. Please note that they can only be used once so if they are all taken, just fill out the form and I will send you one.
http://superpoints.com/wrpgs/eyefkh
http://superpoints.com/wrpgs/q2r7iq
http://superpoints.com/wrpgs/kcmjsx
http://superpoints.com/wrpgs/y4g184
http://superpoints.com/wrpgs/hr3033
http://superpoints.com/wrpgs/vjddt3
http://superpoints.com/wrpgs/3nbpz7
http://superpoints.com/wrpgs/rpjlxs
http://superpoints.com/wrpgs/bfqbp1