FISH Foam Review & Giveaway (US)
My husband is extremely particular about the products that he uses to clean the windows in his truck. After initially being hesitant to use FISH Foam window cleaner, my husband declared this to be an excellent product that left his truck windows clean and streak free.
FISH is "America's largest window cleaning company" and they are proud to introduce Simply Stacie readers to their propriety foam cleaner that is developed for glass surfaces and windows.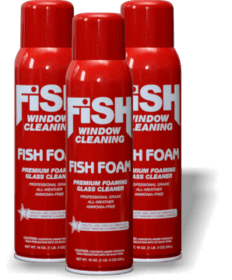 This professional grade all-weather formula is unique because it has a foam base that does not drip so you can accurately target specific areas for cleaning. I have been trying to convince my husband to use ammonia-free window cleaning products in our house and to wash his truck windows but he has refused until using FISH Foam. He declared it to be "better than any of my ammonia cleaners" which was a big step for our family….thank you FISH!
I have personally used FISH Foam to clean our house windows, sliding glass door, mirrors and the glass door to the oven. I really like how this product is so easy to use and more importantly it really works! I love that it removes fingerprints, streaks and grime without exposing my family (and asthmatic daughter) to harsh chemicals.
Overall, I am very impressed and plan to surprise my husband with a case of FISH Foam for Christmas…..it will make a great gift for him. If you need excellent cleaning supplies for the upcoming holidays then you are invited to visit the FISH website where you can learn more about FISH Foam or purchase it for yourself for only $3.95 per can or I highly recommend trying the 3 pack of FISH Foam or case size to save even more.
Giveaway
Three lucky readers will receive a 3 pack of FISH Foam from FISH!



Check out the list of all my current giveaways!
IMPORTANT: Please leave your entries above using the Rafflecopter form. Comments do not count as entries. If you are having issues with the form please leave me a comment here. It's a new software and feedback is appreciated!
To do the daily tweet: If the form will not let you put in your daily tweet, please fill out the main entry again and put "Do Not Count" in the Extra Info, Name or Email box. Then it should let you complete the daily tweet.
*I did not receive any financial compensation for this review, though I did review a sample of the product for evaluation purposes. This giveaway is not related to Facebook in any way. The opinions are based only on my experiences with the product.*