Potty Training Secrets Exposed Review
I have been struggling to get Zoe, my 3-year-old, potty trained for over a year. Nothing I had already tried was working, and she is very stubborn. The old she has become, the harder it has been to get her to comply with our wishes. Since my husband works full time, it was solely my responsibility to get her potty trained. This is by far the hardest thing I have had to accomplish as a parent so far. I find the very idea of potty training to be terrifying. I had asked for advice from my friends (who had what I considered far out ideas; no way did I think they would work) and Zoe's pediatrician, who I questioned if he'd ever potty trained a child in his entire life (don't get me wrong–I love our pediatrician, but I don't buy the whole "she will just do it when she's ready" attitude.)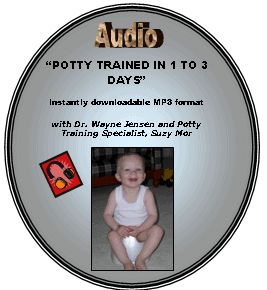 So I started Googling "potty training" to read whatever free materials were available to me, and I stumbled across an ad for a website called Potty Training Secrets Exposed. I was drawn in by the promise of a potty trained child in 1-3 days–I was desperate! Wayne and Katherine Jensen are the brains behind Potty Training Secrets Exposed, and have carefully researched potty training methods and spoken with various experts on the matter to develop a perfect plan.
I contacted Wayne and Katherine to see if they would be interested in me writing about my experiences potty training Zoe with their method, and to my delight, they agreed! The materials include an audio clip (about 45 minutes long), a short but detailed e-book, and some potty training charts to keep track of your child's progress for $38.
The e-book walked me through what I was expected to do for the first 4 days. Prior to beginning the actual potty training, there is one day where the potty training parent role plays with the child. Once the parent demonstrates and then the child gets the hang of it with a doll, the next day potty training can begin.
On Day 1, I was nervous and excited at the same time to put her in regular panties. We had already purchased a package of Tinker Bell panties, so I was ready to go. I knew to expect messes, so cleaning supplies were nearby as well. I had my chart and stickers and rewards ready to go, but honestly I wasn't expecting anything to happen. Wayne and Katherine's method was actually quite similar to what I had tried before, and that whole day (probably a whole year ago now) had resulted in nothing but accidents.
This time, though, something was different with Zoe. When she had her first pee accident, she was really upset about it. I changed her into a fresh pair of panties, cleaned up the mess, and waited until it was time to coax her into sitting on the potty again. She had 4 pee accidents that morning and early afternoon, but by late afternoon (1:58 pm if you want to be exact) she peed in the potty. As a reward, she got a treat and a sticker to place on her chart. I think the stickers really helped; stickers aren't something she gets all the time, and she really loves them. Since that point on, there have been no more pee accidents.
On Day 2, Zoe had no pee accidents whatsoever during the entire time she was awake; when she is asleep she sometimes still pees or poops. By Day 3, she was recognizing when she needed to pee and would go upstairs to the bathroom herself, pull down her panties, and go. She even likes cleaning herself off and then dumping out her toilet's potty tray.
It's now been exactly a week since I started using Wayne and Katherine's method, and it has worked beautifully in regards to peeing. We are still struggling with getting her to poop in the potty; she doesn't tell us when she needs to do it, and it all happens too quickly before we are able to rush her to the bathroom.
Despite that, though, this is the most progress I have made with potty training, and I owe it all to Wayne and Katherine. I would definitely recommend their site to any parent, whether you are potty training boys or girls. The e-book also contains valuable information on how to handle any regressions, and even how to potty train twins! Whether you have boys or girls, singles or multiples, Potty Training Secrets Exposed makes potty training easy.
*I did not receive any financial compensation for this review, though I did review a sample of the product for evaluation purposes. The opinions are based only on my experiences with the product.*