Interview with Octavia Spencer #TheHelpMovie
The Help is one of this summer's most popular movies. It has been in theatres since August 10th, and has made over $57,000,000 dollars at the box office so far. Audiences everywhere are still filling the theatres, so if you haven't seen it yet, you've still got some time. But don't wait too long–this is the type of movie that you will want to see again at least once before it departs the big screen.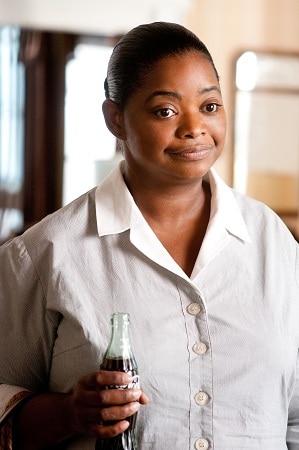 As I've said before in a few of my posts, Minny Jackson is one of my two favorite characters in The Help. So imagine my excitement when I found out I was going to be given the opportunity to interview Octavia Spencer over the phone! (I actually had to chomp down on my wrist so I wouldn't squeal when she dialed into our conference call.)
It was wonderful getting to speak with her, and everyone involved in the interview asked great questions. Here's what Octavia shared with us during our conversation:
Octavia on getting the role of Minny:
"I was a part of her doing the book. I went on tour with her in 2009, and it's very rare that…an unknown actor gets a lead role in a film like this…I knew that I had to separate myself from the idea that it could happen, so I waited until I was offered the part (which was in May) before I allowed myself to even think it was possible…I was elated."
Octavia on the similarities between herself and Minny:
"Kathryn Stockett very loosely based…the character of Minny on me and it's basically my physicalities (being short and round). She met me on a day–I would say–I was not really feisty, but…completely irritable, times a thousand."
Octavia on cooking and food:
"In real life, I don't cook anything."
"I love chocolate…you have to have chocolate."
"I'm a meatloaf and mashed sweet potatoes person."
Octavia on working with the children in The Help:
"The little girls that played Mae Mobley aren't trained actors. I thought that they were all amazing, and so every time one of those two was on screen it tugged at my heartstrings, I loved watching them…they just all have a special place in my heart."
Octavia on her favorite experience with working on The Help:
"Meeting different people..they come up and share their experiences and what they thought…I had the wonderful opportunity to meet Myrlie Evers-Williams, the widow of Medgar Evers…I had the opportunity to meet the First Lady. This project is really compelling people to have a moment of reflection and introspection and in doing so it just opens the dialogue."
Octavia on Tate Taylor's adaptation of the book:
"I think that Tate did the best thing possible…I personally love the way he was able to keep…the integrity of the overall story of the book…which was basically what these women set out to do together…I really am pretty pleased with what he was able to do."
Octavia on what inspires her:
"So many things inspire me. I think having a strong family unit and being so close to my own siblings…and then now meeting people…I'm passionate about civil rights and human rights..and the rights to children…because they are the most sacred, most natural resource, and they are helpless without us. I'm not a mom, but I certainly..I definitely see the value in that because my mom valued me and my siblings. I guess I'm passionate about a lot of things."
Get the latest on The Help online here:
You can also connect with Octavia on Twitter: @octaviaspencer
We wish to thank Octavia Spencer for taking the time to speak with us, and to Marshall Weinbaum with Disney for arranging the interview.