Book Review | Amish Values for Your Family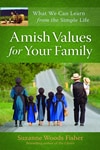 Title: Amish Values for Your Family: What We Can Learn from the Simple Life
Author: Suzanne Woods Fisher
My Review:
Amish Values for Your Family is without a doubt the most profound parenting/family book that I have read……ever. My husband grew up in Ohio, near Amish country and I have always been inspired by our interactions with the Amish, particularly their cohesive family relationships that are built on biblical principles. I am also a fan of Suzanne Woods Fisher's works of fiction, so I was really looking forward to reading this non-fiction book. I was so impressed with the author's ability to present real Amish wisdom and experiences that are so down to earth, practical and inspirational that I finally feel like I can actually raise my family using the values and virtues that I have been so envious of previously. This book is so insightful and it is quite entertaining too….in fact I laughed, shed a few tears and found myself thanking God for my husband and children, immediate family and even my in-laws! Amish Values for Your Family currently has the #1 spot on my well-stocked bookcase and I suspect it will remain there for a very long time!
My favorite Amish proverb in the book was "A happy memory never wears out." I was particularly impacted by this chapter about family vacations in the book because it was so personally meanful to our family. Since we are now a one income family, we didn't have the money to spend on a fancy vacation so instead we spent two weeks in an amazing cabin in the mountains of Virginia. My husband and I drank our coffee together on the front porch overlooking the Shenandoah River every morning while the kids were still asleep, we hiked as a family through the mountains, swam in the river, fished (but didn't catch anything big enough to eat) and roasted marshmallows together at night. Though we didn't eat out at fancy restaurants, go to all of the pricey tourist spots or buy a lot of expensive souvenirs it was our most amazing vacation ever. My three little ones still talk about our fun adventures and commented on how wonderful it was that I wasn't connected to the internet or my cell phone (am I really that bad?). It made me realize that it is the time we spend together as a family enjoying the beauty of nature created by God that creates memories that will last us forever.
You are invited to visit the author's website.
*I received a copy of this book to review but I was not financially compensated in any way. The opinions expressed are my own and are based on my observations while reading this novel.*