Arts for Children Review
I think it is so important to expose my children to the arts at a young age so I was thrilled to discover AMMO Books. What makes AMMO Books publishing so special is that celebrates the world of visual arts and makes it accessible to children (and adults) of all ages through books, games and even puzzles.
My children and I love playing the new Modern Art Memory Game which features many of the world's most renowned artists such as Pablo Picasso, Andy Warhol, Vincent van Gogh and more. Each of the 36 pieces in this game is a visual explosion of colors, shapes and patterns. It really captured my children's attention. In fact, after playing we read the foldout booklet that identified the artist, name of the painting and year it was completed. My children chose their favorites and we found each of the paintings in my old art books which made for a fun discussion and even inspired them to try to recreate their own masterpiece. The Modern Art Memory Game is a wonderful twist on the classic game and I enjoy playing it just as much as my children. It is affordably priced at only $16.95 and would make a great gift idea for young art enthusiasts or as a resource for home schooling as I am using it in our art class.
For the youngest artists, AMMO Books has a wonderful selection of board books that are visually stunning. From the Charlie Harper collection, his newest book, COLORS (SRP $9.95) is a wonderful introduction to the world of color using the artist's trademark bold, simple illustrations. My three year old son absolutely loves this book and I burst with pride as he proudly recites all of his colors and finds the word for the color that is brilliantly written in text of the corresponding color. I am so inspired by the beautiful illustrations that really bring this captivating book to life……just stunning!
For children who are learning to count, I highly recommend the charming book, Counting in the Garden (SRP $14.95). Written by Emily Hruby and illustrated by Patrick Hruby, this chunky board book elevates the average counting book to new levels with vivid colors, geometric shapes and an interesting story. My three and four year olds love learning to count as they discover one new plant on every page from 1-12. We have our own organic garden so we particularly love exploring Counting in the Garden together. It would be an excellent book for infants, toddlers and young children.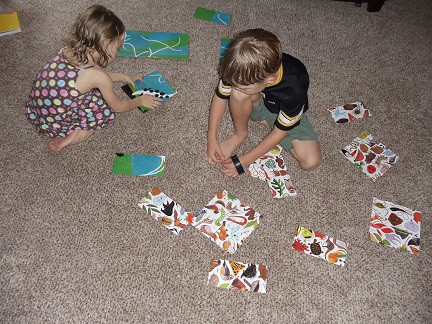 Another favorite is the Charley Harper Flash Cards and Floor Puzzles (SRP $15.95). My children have never had so much fun learning the alphabet then with this beautiful set featuring amazing wildlife illustrations by the American artist, Charley Harper. Every morning, the children practice learning their letters using the flash card and then have a blast using the back side of the cards to form two different floor puzzles. This entertaining set has provided them with hours of fun and I appreciate that they are learning too. I also like that this set is very sturdy so it is holding up like new after repeated use by three rambunctious children.
I am so impressed with the quality of the books, games and puzzles available at AMMO Books. We use at least one of the products from this review every single day and my kids are really enjoying it. I love that it has encouraged them to express their own individuality through paintings and drawings and has stirred their interest in learning more about famous artists around the world. AMMO Books has a wonderful selection of books and products for adults and children and you are invited to visit the website to learn more or to order the Modern Art Memory Game, COLORS, Counting in the Garden and Charley Harper Flash Cards and Floor Puzzles.
*I did not receive any financial compensation for this review, though I did review a sample of the product for evaluation purposes. The opinions are based only on my experiences with the product.*