VeggieTales Live! Sing Yourself Silly DVD Review
VeggieTales® Live! Sing Yourself Silly captures all the fun of the live tour with energetic dancers, loads of bubbles, confetti, big bouncy characters and 18 of the most classic and popular VeggieTales silly songs performed live on a stage including "His Cheeseburger," "Love My Lips!," "The Hairbrush Song," plus a few hits from the 80's that both parents and kids will enjoy! There are also several fun and family-friendly bonus features included such as a peek behind the curtain on "Larry's Backstage Pass."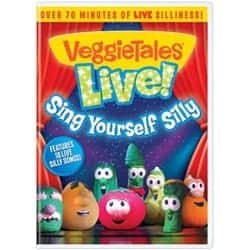 My Review:
My children are big fans of the VeggieTales® characters and their very first concert was VeggieTales® Live! last year. It was so much fun for my husband and I to watch our children sing and dance along with their favorite characters like Larry the Cucumber and Bob the Tomato. The excitement in the air was palatable with all the children and their families having a blast and this is one of my all time favorite concerts! VeggieTales® Live! Sing Yourself Silly brings the energy to DVD for everyone to enjoy and my kids were once again moving, grooving and singing their favorite songs.
What I value most about the VeggieTales® is that it is fun and silly entertainment that also teaches important values such as honesty, sharing and kindness in a way that is easy for children to understand and they can relate to the messages through stories, songs and skits. The characters are lovable and endearing and the songs are memorable. In fact, my children have their favorite songs but both my husband (he won't admit to it but I have caught him) and I know all the words to the "VeggieTales® Theme Song" and "The Water Buffalo Song"!
VeggieTales® Live! Sing Yourself Silly on DVD would be a wonderful gift idea for any VeggieTales® fan and includes the following songs that is sure to have children everywhere dancing and singing their favorites:
VeggieTales Theme Song
The Water Buffalo Song
Big Things Too
Gourds Just Wanna Have Fun
Song of the Cebu
Dance of the Cucumber
God is Bigger
His Cheeseburger
Love My Lips
The Pirates Who Don't Do Anything
Do the Moo Shoo
Rumor Weed
Endangered Love (Barbara Manatee)
Bellybutton
Footloose
The Hairbrush Song
I Can Be Your Friend
VeggieTales Theme Song (reprise)
You are invited to visit VeggieTales.com to purchase the VeggieTales® Live! Sing Yourself Silly DVD for only $12.99 (SRP).
*I did not receive any financial compensation for this review, though I did review a sample of the product for evaluation purposes. This giveaway is not related to Facebook in any way. The opinions are based only on my experiences with the product.*