SmartKlean Review
My husband is particular about his laundry and he was very resistant when I began using eco-friendly laundry detergent and eliminated artificially scented dryer sheets three years ago in our home. Just when he had gotten used to it, flash forward to four weeks ago when he was absolutely mortified after I announced to him that I wanted to try SmartKlean® laundry balls which eliminates the need to use laundry detergent to clean our clothes, sheets and towels. After much discussion and after reading the science about how the SmartKlean® laundry ball works, he reluctantly agreed to let me try it qualifying it with, "don't tell me when you are using it and we will see if I notice any difference."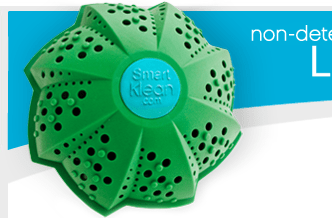 Three weeks later, I am pleased to share with you that I have used the SmartKlean® laundry balls for two loads of laundry every day and our clothes are clean and smell fresh. In fact, my husband's face was priceless when I asked him what he thought of his laundry and he realized that I have been using SmartKlean® all along. He enthusiastically admitted that his clothes are clean, soft and smells good so "it must really work".
If you are not already familiar with SmartKlean® laundry balls you are probably wondering how it works. SmartKlean® works by washing clothes without detergent or soap and utilizes "natural ceramics that form oxygenated water when added to the water". There is a lot of interesting science behind this technology but since I am not a chemist, I would encourage you to read the wealth of informative research available at the SmartKlean® website to help you understand how it works.
I am just so excited that it is an effective cleaner and my initial doubts are completely gone! There are so many eco-friendly and money saving benefits for using SmartKlean®. One of these laundry balls is designed to last for 365 toxic free washes. There is no foam or residue so I no longer have to use my rinse cycle which is saving a lot of water use. I can feel confident that I am not contributing to adding loads of run-off residue from detergents into the water supply and I am saving money on my water bill. Also, my daughter has eczema and asthma which is irritated by harsh detergents and soaps (even some eco-friendly brands) so I don't have to worry about her being exposed to toxic chemicals or artificial fragrances. Our clothes, towels and linens are soft so there is no need for us to use fabric softener. My husband does like his clothes to have some scent so I simply add a few drops of lavender or mint oil and he is happy. Finally, I am just giddy with how much I am saving on purchasing expensive detergents. I prefer to wash super or XL loads of laundry so I have chosen to use two laundry balls at the same time and this works great for us.
Other advantages include (from SmartKlean):
It leaves no residue or traces of chemicals in our waterways or water treatment plants – protecting our precious aquatic ecosystems and water supply.
1 laundry ball reduces (on average) 20-40 containers and packaging for detergent (not including fabric softener containers) and 4-5 boxes of softener sheets or dryer sheets.
Our laundry ball is BPA & PVC free.
The material the enclosure is made of recyclable TPE (non-plastic). The ceramic pellets and magnets are biodegradable.
It is very water efficient (no residues mean no rinse cycles necessary) – because it can save anywhere from 2,000-8,000 gallons of water.
It is very energy efficient (no hot water necessary for any fabric).
It naturally maintains the softness and elasticity of clothing (hence no fabric softener or dryer sheets necessary), and no more static cling!
It naturally preserves the colors of clothing longer than any laundry detergent.
It is much easier to use than any soap or detergent.
It is compatible with HE, front and top loaders. It is 100% safe for all washers and septic systems (and even helps maintain their cleanliness).
If you are looking for ways to save money, avoid toxic detergents and help the environment then I highly recommend learning more about the SmartKlean® alternative. You can learn more about SmartKlean® by viewing this short, interesting video.
SmartKlean® is available for purchase online at the website.
*I did not receive any financial compensation for this review, though I did review a sample of the product for evaluation purposes. This giveaway is not related to Facebook in any way. The opinions are based only on my experiences with the product.*