14 Reasons Why Your Giveaways Aren't Getting Many Entries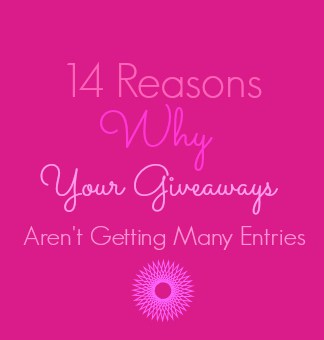 I run many giveaways on my site as well as participate in giveaway events on a regular basis. I've made a list of reasons why a giveaway might not do very well based on my own experience and talking with other people who do giveaways on their sites as well as enter them.
Here's 14 reasons why your giveaway may not getting as many entries as it could:
There's too many mandatory entry requirements. Keep the main entry to one step only.
The links to follow don't work or you don't include them. People don't want to search sidebars and might just skip doing it if they have to look for links.
You have captcha on your comments. It's time consuming especially when there are multiple entry options and that darn captcha is hard to read.
Some people don't like to leave comments as entries. This is especially true if you say leave ten comments for doing this AND you have your captcha on.
You don't say who can enter. Canadians won't enter a giveaway that doesn't specifically say its open to Canada. Tell us who it's open to.
You don't say what the prize is or when the giveaway ends. If the reader thinks the giveaway might already be over, they might decide its a waste of time to enter.
You don't make it easy for people to share the giveaway. Have a tweet button or write out the giveaway tweet for them to just copy and paste. The easier it is the better and the more sharing you will see for your giveaways.
No one knows about it! You need to list it to get the word out there. Add it to contest sites, linkys, post on your Facebook and Twitter. I have a post about sites to list your giveaway.
You make the main entry too limited. For instance to enter you need to blog about the giveaway. Some people don't have blogs and others with blogs don't want to do it. Others don't want to subscribe by email because they already get enough of it. Or perhaps they don't have Facebook  or Twitter. It's fine to have those entries but I always expect to get less people entering when I do those types of main entries.
The prize doesn't appeal to them. Giveaways for a coupon code or discount aren't really free so most people will just skip them.
The main entry violates Facebook Promotion Guidelines. For example you ask them to like a page and post on a wall or share with friends.
It's too confusing. Be clear on what the entries are and how they enter (ie. fill out form, comment, etc).
You ask the reader to make a purchase to enter the giveaway. It's not really a giveaway then and more like a lottery. Depending on where you live, you need a license to hold one.
You don't email the winner to notify them to tell they've won and ask that they check back on your blog to claim their prize. It's a hassle to have to remember all these sites where you entered so some might not bother if they know that you don't contact winners.
Do you agree? Disagree? What makes you not want to enter a giveaway?