My Mama's Love Review
I have a secret to share with you……my favorite line of natural skin care remedies can be found at My Mama's Love. I discovered it almost a year ago and the products that I have used for my family are exceptional. My Mama's Love was created by Leslie McCann to help cure her daughter's skin ailments with natural remedies.
I have shared her frustration, because my own four year old daughter has severe eczema and my youngest son and I also have dry/eczema prone skin which causes us intense discomfort, itching and pain. The Complete Skin Ailment Curative provides significant relief from our eczema and can also be used for psoriasis, dry skin, diaper rash, yeast rash, dermatitis and more. It is made using all-natural and organic ingredients such as organic, extra-virgin olive oil, organic bees wax, organic licorice and organic myrrh. This formula has been so soothing and my daughter will even ask me to apply the product to her "hot spots" which are areas of her eczema on her hands, feet, knees and elbow that are particularly painful. You can just see the relief on her face when I apply this non-greasy remedy to her skin.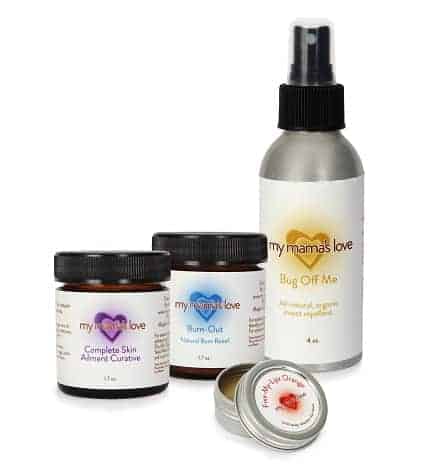 Burn-Out Natural Burn Relief is one of my favorite products because I use this product frequently on my son's severe burn scarring. I apply it to his scar and it is almost like his skin drinks this product into it. Once it absorbs, the scar feels softer and it is more comfortable for him. My husband and I have also used this when we have inadvertently gotten sunburned and it is very soothing. This formula uses oil of organic coconut, organic beeswax, organic essential oils of lavender and eucalyptus. Any time we have any minor burn in the house, I apply this product to the affected area and it provides relief.
I use Bug Off Me on my entire family, including our boxer, Jack. It is a highly effective all-natural, organic insect repellant. I have used this numerous times over the past year while outside in Florida in the evening when the mosquitoes are ravenous, camping in the Pennsylvania mountains and hiking through the woods. We are never bothered by biting insects nor have we (or the dog) gotten ticks while using this product on any of our outdoor adventures. I really appreciate that it is effective without using DEET or other chemicals. It also has a wonderful natural fragrance from the 100% organic essential oils of tea tree, lavender, citronella, eucalyptus, lemon and lemon grass.
I recently tried Fixx-My-Lipz-Orange lip balm. I will admit that I don't normally wear lip balms because I don't like how it feels on my lips but that has changed after using this product. It is a "healing, soothing balm for the relief of dry lips, cracked lips or chapped lips." What I like most is that it glides easily onto my lips and they are so soft and moisturized. I use a natural long lasting lipstick that often leaves my lips feeling dry and I apply this product over it so it feels soft and smooth. It has a wonderful natural scent of organic orange oil. My daughter always asks to wear some of my make-up and I refuse since she is only four years old but I do allow her to have a touch of this lip balm on her lips and she loves it.
This summer, My Mama's Love has combined these four fabulous products in the Summer Loving Kit. I was blown away by the fantastic price of only $25 for the entire kit which is an excellent value. A little bit goes a long way with each of these products so you are really getting every penny's worth when you purchase this kit. More importantly, you can feel confident that you are using organic products that are natural, gentle and effective.
You can purchase the Summer Loving Kit or any of the products individually by visiting the My Mama's Love website.
*I did not receive any financial compensation for this review, though I did review a sample of the product for evaluation purposes. This giveaway is not related to Facebook in any way. The opinions are based only on my experiences with the product.*