Anime Studio Debut 8 Review
Create Your Own Cartoons and Animations with Anime Studio Debut 8. Whether you're a digital enthusiast, a newcomer to animation, or if you just want to create art for work or fun, Anime Studio provides what you need to create your own cartoons and animations.
Upon trying the Anime Studio software I hadn't used any other animation software in the past so I was happy to see that there was an option to start in Beginner's Mode and there is also a Quick Start Guide that gives you a step-by-step tutorials to get yourself better acquainted with the software before you get started.
Depending on what you'de like to create you have a variety of options. Once you open a new file you can start a design or scene using free hand or you can use the content library that comes with Anime Studio that is full of ready-to-use cartoon characters and props to start your own animation. You also have the option to add in video and sound.
To get started Anime Studio recommends that you, sketch your original art, scan it, import graphics or draw using your mouse or tablet. If you use a pen tablet, you can recreate the sensation of drawing on paper. A variety of customizable brush styles make creating original artwork a snap.
Flexibility and control. I don't have a pen for my tablet so I decided to go free hand.
You can bring your images to life with the bone rigging system. Just point and click to add a skeleton to adjust the bones to the desired position and the program will generate the movement for you. It's actually very easy and there are several options for each character.
Here's a selection of characters that you will have to choose from. As you can see there are many characters that are fun and silly so this is something that your kids could have a lot of fun with. You can put the software on Beginner's Mode for them and give them a quick run through and they'll be creating animations in no time.
You can choose to use characters as is or you can spruce them up a bit or make them as crazy and silly as you want. Change your characters hair color and style, choose from long sleeve or short sleeve shirts and pants as well as the colors, eye width, height and color, mouth and nose style along with placement. Move arms, hands, legs feet up, down, over, out or whichever way you would like. Many characters have the option to used at many angles including front, back and side views.
Anime Studio also has a large selection of scenes to choose from that you can add your characters to or you can create your own scenes or backgrounds for your animations. If you choose to use one of the pre-made scenes in Anime Studio, after you add any of the scenes available you are then able to adjust all of the objects and components in that scene. Change any colors and sizes of the objects, remove objects or move the objects around and rearrange them until you have your animation just how you want it.
Your also able to add any of the images from the Character Wizard or Library into your pre-made or free hand scene in just a click. If you would like to add your own recorded sound clips you can do so right inside the program. Recordings are saved and then automatically and added into your timeline for quick lip-synching so your characters mouths and lips will move with the sound. Supports WAV, MP3 and AIFF formats.
After your done with your animation you can upload directly to YouTube or Facebook to share your creations with your friends, family and fans. You can also save as video, TV and web formats, including SWF Flash animation files, as well as AVI and Quicktime MOV movie files.
Anime Studio is a software that can be enjoyed by the entire family and the examples above are only some of the capabilities of what this program can do. See below to find out even more about Anime Studio Debut 8.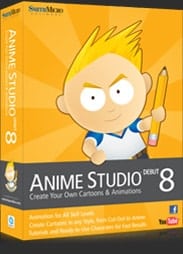 Anime Studio Debut is an animation program that allows you to create 2D movies, cartoons, anime and cut-out animations. Create your own desktop animated shorts in the style of SouthParkStudios.com and JibJab.com or use it to produce animations for film, video or streaming over the web.
Features Include:
With powerful, vector-based drawing tools, including a variety of brush styles and the ability to import scanned drawings and images, you can create your own characters and objects in Anime Studio Debut 8.
The Beginner's Mode guides you through using the key tools in Anime Studio so you can start creating animated videos and shorts right away.
The built-in Character Wizard lets you quickly design your own characters, complete with walk cycles. Creating your own animations has never been faster or easier.
Automatic Image Tracing allows you to bring your existing sketches and image files to life by converting them to ready-to-animate vector drawings with the click of a button.
The new Smart Tool Palette provides a less cluttered interface and enhances the user experience by hiding irrelevant tools.
Import existing sound files or record your own sound clips right within Anime Studio and sync them to your animated characters using automatic lip-syncing.
Choose from a library of content, including ready-to-use characters, props, scenes, stock audio and video clips, scatter brushes and more.
The revolutionary bone-rigging system provides a fast and efficient alternative to tedious frame-by-frame animation. Add a skeleton to any image by pointing and clicking—then bring it to life while keeping your project organized with the sequencer and timeline.
Directly upload your output to sites such as YouTube and Facebook or output your finished animations to popular movie formats, including AVI, MOV and SWF.
Compatible with Mac and Windows.
Price: $49.99
Upgrade from Anime Studio Debut or Pro 5, 6 or 7 to Anime Studio Debut 8 Hybrid Physical or Digital for only $19.99
Try Before You Buy
Connect with Anime Studio on Facebook and Twitter.
*I did not receive any financial compensation for this review, though I did review a sample of the product for evaluation purposes. The opinions are based only on my experiences with the product.*
Thanks to Stacy at Survey Junkie for her guest review!