A Trip to A Lay's Potato Farm
I've got a new appreciation for Lay's Chips after my recent visit a Monaghan Farms in the beautiful Prince Edward Island (PEI).  I've been to farms before, but never a potato farm so it was an entirely new experience for me. Going into it, I really had no clue what to expect! I came away feeling full of knowledge about where my favourite chips truly originate.
Monaghan Farms is located in Kensington, PEI and is owned by Terry Curley. Terry is a sixth generation potato farmer and his family history goes back all the way to the Great Potato Famine in Ireland! His family came to Canada at that time and started Monaghan Farms. Terry's family helps out at the farm including his wife, brother and sister and sometimes even his dad even though he retired in 1992! They have been supplying Lay's with potatoes for over 20 years and have built a strong relationship with them.
I brought John with me for the trip and we met up with Lynette from My Wee View and her mom, a reporter from Charlottetown and our PR rep for Lay's.  The first thing we did was get a group shot in front of the Monaghan Farms sign. It was windy that day and we were hoping the rain would hold off for our tour of the farm!
We met Terry Curley, the owner of Monaghan Farms, and he started our tour of his potato farm! The first building we were brought into was full of large equipment. This area was where the potatoes from the farm go through machines and are cleaned and sorted so that only the  best quality potatoes make it the Lay's factory and essentially into our chip bags. I got a strong sense that quality control was very important at Monaghan Farms just be all the steps that had to be taken before the potatoes even reached the factory!
Terry showed us a piece of equipment that the potatoes go into and hundreds of tiny cameras scan and decide which potatoes are good quality and what ones aren't. Isn't technology amazing? I took a picture of the machine with the cameras here so you can see just how large and complex it is.
Then after that, Terry's employees also visually inspect the potatoes as they come out onto a conveyor belt so you can see what I mean about how stringent they are about only the best potatoes passing the test.
We then moved into a "lab" type of room which contains specialized equipment that tests the potatoes for sugar content. Terry explained that the less sugar in a potato the lighter in colour it will. You know when you see brown chips (not from Lay's of course!)? That's not because they are burnt. It's actually because they have a high sugar content! The Lay's potato chips are always a perfect light colour and I don't think I've ever seen a brown chip in one of their bags. See you learn something everyday!
This is the machine that does the testing for sugar content- again this is to ensure that only the best potatoes make it to the factory.
I asked Terry if he had to watch out for any animals or pests and he mentioned two things that they do have to watch for. One is blight which is a type of fungus that can infect potatoes. Terry explained that it was blight that caused the Great Potato Famine in Ireland. It has the potential to ruin a whole crop so they are constantly watching out for any signs of it. Another one was sunburn. Like us humans, potatoes can get sunburnt except they don't turn red, they turn green! Have you ever seen a green chip? I have on some no name brands a number of times though I can honestly say I don't recall ever seeing a green chip from a Lay's bag!
Monaghan Farms has a number of large storage facilities where they house the potatoes after they are picked. These buildings are HUGE and when full, contain millions of potatoes in each one.  I believe he said he had 5 storage facilities on the farm. I walked into it and couldn't believe how big it was and was trying to imagine it jam packed full of potatoes from floor to ceiling. My picture of the storage area is a little dark, but it shows just how massive this area is. Terry said that 3 weeks prior to our visit, the storage area was full of potatoes.
In the storage building, we saw the machinery used to plant and pick the pototoes. Terry had them specially made in Europe just to use on his farm. It all looked very complex to me!
Next was my favourite part of the trip- to see the actual fields where the potatoes are planted! PEI is known for it's "red dirt" which is actually a clay soil that grows a mean potato. The fields had only been recently been planted with "seedlings", but we got to see just what a potato seed looks like. Ok I'll admit I had no clue what a potato seedling was. I thought it was a small seed that you plant in the ground and out comes a potato. I was wrong and John had a good laugh at my expense. These seedlings are actual potatoes cut a specific way so that the "eye" is intact and from that comes your potatoes! Terry said each seedling can give you 3 to 4 lbs of potatoes!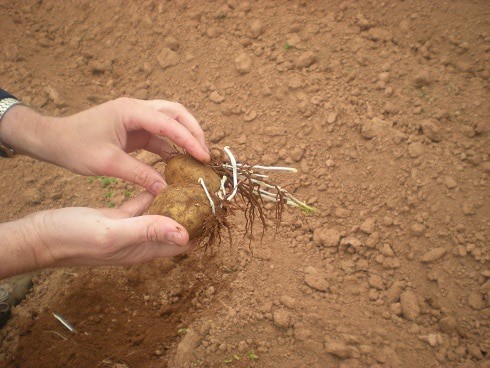 It started to rain at that point, but that was ok because our tour had come to an end. I was thankful that the weather held off long enough so we could have a look around the farm. I learned so much and it was a great experience to meet Terry and have a tour of his farm to see where Lay's chips originate. I now know firsthand the kind of quality, hard work and dedication that goes into every bag of Lay's Chips. It's great to have a product like Lay's that is homegrown on Canadian soil!
*I was provided travel, meals and accomodations for my stay in PEI by the PR firm representing Lay's. Opinions expressed are my own and based on my experience.*