Skechers Shape-Ups Review
When I was in my early 20s, I was in the best shape of my life. I lost 70 pounds by working out 5 days a week at the gym doing cardio and weight lifting. I felt fantastic, strong and most of all, confident. Things went downhill for me after I developed chronic pelvic pain in 2005 and my fitness suffered as a result. I could barely walk somedays let alone go for a run. Thankfully I have slowly improved over the years and can do modified workouts on my good days. The pounds have slowly been creeping back and I want nothing more than to look and feel good again.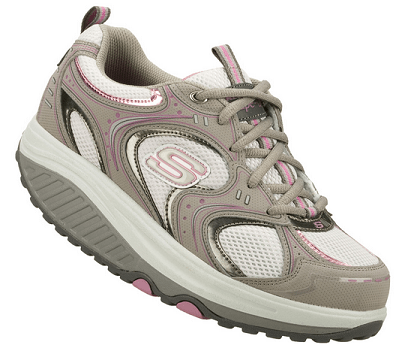 One physical activity that I really enjoy is walking and I've heard that it's the best way to get in shape without being too hard on your body. I'm embarassed to say this, but I recently just threw away a pair of running shoes that I wore religiously for years….since 2000. I know it's sad. I wore those pair of shoes out and there were holes all over them. I needed to find another pair of running shoes that would be comfy for me to where. I got so much more than that with Skechers Shape-Ups!
These are definitely not your ordinary run-of-the-mill running shoe! They have many unique features that I had no clue even existed in shoes.
Shape-ups are designed to:
Promote Weight Loss
Strengthen Your Back
Firm Calf and Buttock Muscles
Tone and Firm Thigh Muscles
Increase Cardiovascular Health
Improve Posture
Reduce Stress on Knee and Ankle Joints
Relieve Muscle Tension and Fatigue
I can benefit from each and everyone of these features! I'm really working hard on getting in shape for the summer. My knees have been bothering me lately and I know it's because they aren't using to holding all this extra weight. Bye bye pounds!
The first thing I remarked when my Shape-Ups arrived were how CUTE they were! They are pink, grey and white and very stylish. SO MUCH nicer than any pair of running shoes that I've ever owned in the past. I couldn't wait to get them and see how they fit.
And they fit perfectly! I take a size 8 and I had just enough wiggle room in them. I put them on and laced them up and stood up and grew an inch in height because of the way they are designed. Let me tell you a bit about each component of the Shape-Ups so you can gain a better understanding of how they work:
Upper: Made of superior quality durable leather, suede and breathable mesh to provide support and comfort
Sockliner: Has a Removable insole for arch support and molded cushioning for comfort; Also has antibacterial treatment to prevent odour, wick away moisture and increase breathability
Midsole: Firm polyurethane frame designed to support and stabilize your foot.
Kinetic Wedge: Provides maximum shock absorption to protect your body while exercising your core muscles
Outsole: Contributes to biomechanical motion necessary to achieve a natural walking state by propelling you into your next step
Bet you never thought so much went on in a shoe right? These features are meant to change the way you walk. When you walk in your Shape-Ups, it actually simulates that you are walking on soft sand so it does change the way you walk and thus provides you with all these wonderful key benefits that I mentioned above.
At first, they did feel a little awkward and I didn't walk too far with them. My leg muscles were also sore because I was using muscles that haven't been used in so long. It was a good kind of pain though because I knew that my body was adjusting to a higher fitness level. After I got used to walking in them though, I was able to go for longer walks and now I don't even notice the difference anymore. They kind of feel like you are being pushed by momentum into your next step and feels very easy and natural. They are the perfect walking shoe.
I wear them everywhere now- on walks, shopping and even inside the house while I clean. My legs are feeling stronger and my knees aren't hurting as bad as they used to. I haven't checked the scale to see if I have lost any weight, but I am see that Shape-Ups are helping me tone up. I love to walk as often as I can (weather permitting of course).
Shape-Ups come with a Skechers DVD with an instructional video and a 15 minute and 30 minute workout. The instructional video goes into detail about how to use your Shape-Ups when you first get them and gives you pointers on how to stand and walk. They also give you some warming up and cooling down exercises you can do.
Watch this video and see the Shape-Ups in action:
Want a pair? Check the Skechers website and find a store in your area that carries Shape-Ups. I'm very pleased with my pair!
*I did not receive any financial compensation for this review, though I did review a sample of the product for evaluation purposes. This giveaway is not connected in any way to Facebook. The opinions are based only on my experiences with the product.*