Shabby Apple Review
Shabby Apple is a wonderful online boutique that sells stylish clothing and dresses for women, preteens and little girls. I just love the vintage inspired collection that is so feminine and classic. I also appreciate that Shabby Apple celebrates all women's body types and even helps you select the perfect dress based upon your particular shape.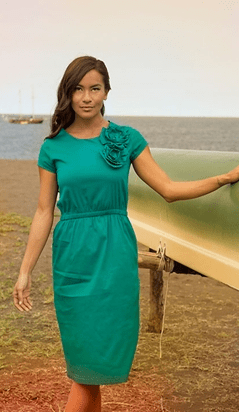 I have a curvy, hourglass figure and selected the beautiful North Shore dress that has a wonderful retro feel from the new spring dress line. The teal color is bold and just perfect for spring and summer. This dress is made of cotton poplin and I appreciated the touch of spandex which gives it a hint of stretch. I was a bit worried about sizing because it is hard to find the perfect dress for curvy figures. It fit perfectly in my normal size particularly in the back and abdominal area which is typically where I would need to buy a size up in some circumstances. The two pleated "spiraling rosettes" on the bodice are very eye catching and really give this dress a fun, pretty look. The North Shore dress is easy to care for and I washed mine on cold, hand wash/delicate cycle and laid it out to dry. I was surprised that it didn't wrinkle badly at all and it only required a light steam as opposed to an iron to get it ready to wear.
It was so hard to find my favorite among the beautiful choices for little girls' dresses but the Creamsicle dress which creatively has two bows on the side to bring it together is just so lovely. With a fun combination of pink and orange background colors and a yellow and white medallion pattern, this 100% cotton dress which has been featured in Daily Candy is super stylish for children and is currently on sale for only $27.20.
In addition to beautiful dresses, Shabby Apple also offers stylish jewelry and accessories to complete your look, skirts and even footwear. I will never forget the most elegant and beautiful woman that I have ever known, my French Canadian grandmother, Isabella. She always wore the most amazing vintage dresses or skirts and accessorized with the perfect piece of jewelry. When I view the Shabby Apple collection, it reminds me of her most amazing dresses that are updated to suit the most modern woman….sheer perfection!
You are invited to visit the Shabby Apple Boutique to select your favorite dresses for women and children. From the "Not So Simple" black dress, dramatic maxi-length dresses, amazing prints, the 1943 collection, South Pacific and so much more…..there is something for every occasion or event.
Connect with Shabby Apple on Facebook to receive updates and specials!
*I did not receive any financial compensation for this review, though I did review a sample of the product for evaluation purposes. The opinions are based only on my experiences with the product.*