I first started using Google AdSense in March 2009, but didn't make my first $100 (which is the required amount for payout) until January 2010.  The only places I had ads were in my feed and in my posts between the where the post ends and the comment box. It wasn't until January 2011 that I noticed a big difference. Why? I had started with an Ad Network and needed to add their ads to my site. They had an option to input default ads when the ad network ads weren't showing. So I added in my Google AdSense code. It was crazy seeing  how big of a difference it made in my earnings! We are only 5 months into 2011 and I've already beaten my 2010 earnings and then some!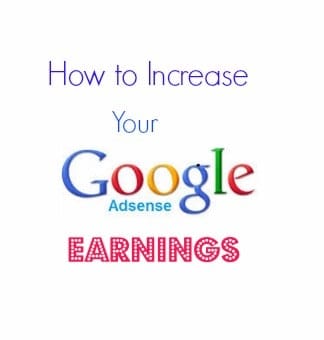 How I did it is pretty simple. I've shared this with a few other bloggers to see if it would make a difference to them and many of them have told me that it has helped them tremendously.
Here's what I did:
On Your Blog:
Under your header, put a 728 x 90 banner. Make sure to select Image only. Don't use Text/Image ads.
In your right sidebar above the fold, put a 300 x 250 Image Ad. Remember don't use the Text only or the Text/Image ads.
Down your right sidebar towards the bottom, put another 300 x 250 Image Ad OR in your footer, put a 728 x 90 Image Ad.
You are only allowed to have 3 AdSense ads on your site at one time as I recently discovered thanks to Real Mom Reviews. It's important to make these ads image only! The above the fold ads are the most crucial and will be most likely the ones that earn you the most money. They are prime real estate on your site.
In Your Blog Posts:
Add a 300 x 250 Image/Text Ad between where the posts ends and the comments begin. The plugin I use to do this in WordPress is called Advertisement Management.
In Your Feed:
I have my feeds set to partial (Look under the Reading Setting in WordPress) and have the Text/Image Ads selected.
Thankfully, AdSense pays for my increased hosting costs. I now pay $105/month to host my site so this money is very helpful to keep my site up and running. I know that not everyone likes the look of ads or some people have a beef with AdSense and I respect that. Personally I don't mind them and if it helps to keep your site up and running and earn some extra money I say go for it!
Here's some feedback from Jen at Makobi Scribe who also tried my tips….
Simply Stacie shared a few Google AdSense tips with me to help improve my monetization efforts. I had originally had text and images showing, and I did not have a footer or ads after each post. Once I had changed these items, my income from Google Adsense QUADRUPLED!! I got more clicks on the pictures, it made my site look better, and I have more cash flow headed my way. Every penny helps once you are paying for your own hosting! Thank Simply Stacie so much for sharing!! I also want to mention that Google Adsense is my backup adserver, so you can imagine how her tips helped my primary!!
Stacy at Survey Junkie also gave them a try….
I started using Google Adsense about 4 months ago and I wasn't sure were to put the ads so I had 1 ad in my posts and 1 in my feed. Needless to say I wasn't all that impressed so when I moved to WordPress and my Theme wasn't compatible with Adsense. Once I changed my theme Stacie made sure that I gave Adsense another try and she helped me better understand how things work and that placement and ad type are also important.
It only took me about 20 minutes to set up all of my ads and get them going. Now 5 days into using Stacie's Adsense suggestions I have already almost made more in 5 days then I did in 4 months. I am amazed at the earning potential here. Not only will I soon be able to cash out for the first time but at this rate I will be able to cash out monthly. Yay!! All thanks to my favorite friend and blogger, Stacie 🙂
Skye from Real Mom Reviews also implemented these tips….
I made an increase of more than 1400%!!!
Do you use AdSense on your site? If so, how do you like it?