The UK Gift Company Review
I remember that I was a young girl captivated when Lady Diana married her prince. It is difficult to imagine that Princess Diana's own son, Prince William will soon marry his love, Kate Middleton in April 2011. In honor of this special event, The U.K. Gift Company is offering a commemorative replica engagement ring. The original is such a special historical piece because it is the same ring that was worn by Princess Diana and was chosen by Prince William as a way to honor his mother's memory and include her in spirit on his special day.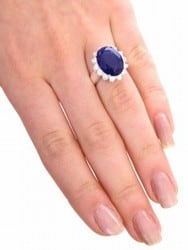 I had the opportunity to view this lovely replica Royal Engagement Ring and it is so pretty. Unfortunately, it was too small to model on my own hand but I will be saving this special ring for my daughter when she is old enough to appreciate its significance. The ring is made of sterling silver and is set with 14 sparkling 3mm CZ stones and a sapphire colored glass center stone. This precise and very affordable replica is simply stunning and would make an excellent addition to your collection.
This would make an excellent gift for you or someone special as the ring comes attractively presented in a royal blue ring box. To purchase your own replica Royal Engagement Ring for only $50.28 from The U.K. Gift Company you are invited to visit the website.
*I did not receive any financial compensation for this review, though I did review a sample of the product for evaluation purposes. The opinions based only on my experiences wtih the product. Thanks to Business 2 Blogger for connecting us with this company.*