Blog Spotlight | The Creative Well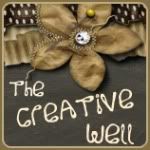 Today I would like to welcome Theresa from The Creative Well. I had a chance to learn more about her blog and here's what she had to say…
Please tell me about yourself.
At 34 years old, I'm lucky enough to be married to the man of my dreams, mom to two boys, step mom to three boys, and caretaker to 2 cats and 1 dog.  After I had my first son, my reading got set aside so that I could pay more attention to my new bundle of joy.  Now that my youngest is 11, my love of reading has come back full force!  I'm also a very creative person and dabble in crochet, painting, pen & ink, hemp jewelry, sewing, and photography.
Please tell me about your blog.
The Creative Well is where I post about all of the bookish things going on in my life, and also any creative endevours that I may be on at the moment.  I try to be as personal as I can in my posts because I believe that the more a blogger lets their personality shine through, the more enjoyable the posts are to read.
How long have you been blogging?
My blog was created almost a year ago, but I started actually blogging on October 13th of this year.  I dove in head first with a commitment to write what I feel, and I think I'm doing ok so far. 🙂
How did you get started?
I had been out of the reading scene for over 10 years and knew that I had missed 1000s of good books being released.  A friend of mine pointed me to goodreads, where I discovered a couple of book bloggers.  One thing led to another and one day I decided "I can do that!"
What kinds of products do you feature on your blog?
My blog is basically a book blog, where I post info and reviews on interesting books, but I also post a few items from my Etsy shop once in a while.  I've also recently been contacted by CSNstores.com to review products for them, so those reviews will be coming in the near future.
What was your favourite giveaway?
Ohhh… that's a tough question.  There are always so many great giveaways going on!  Being a stay at home mom, my budget doesn't allow me to by fun goodies very often, so any giveaway is a great giveaway to me. 🙂
Who does your blog appeal to?
I think my blog would appeal to readers of any age, creative people who like to try new things, and anyone that enjoys a good sense of humor.
What direction do you see your blog going in the future?
To be honest, I hadn't thought about this question until you asked it.  My blog is really just a baby, and at this point in time, I'm happy as long as my readers are happy.  I still check everyday to see if I've gained a new follower, though. lol
What is the biggest challenge you have faced so far with your blog?
Just like with everything else, I think being found is the hardest part.  The WWW is a huge place and it's hard to get noticed sometimes.
What do you love about blogging?
My followers!  I love hearing what people think of my opinions and ramblings, and I love being able to speak my mind.
Do you have a blogging pet peeve?
Just one… misspelled post titles.  Drives me crazy when I see a blogger has misspelled the title!
Do you have any advice for the readers entering your giveaway? newbie review bloggers?
The best advice I could give is to just be yourself.  Be who you are and not who you think people want you to be.  Your posts will be more interesting to your readers, and more fun for you to write.
Tell me some of your favourite blogs that you read.
There are so many, though! lol  Your's, of course, and My Bloody Fairy TaleNocturnal BitesAll Things Urban FantasyGReads!