Why I Left Blogger for WordPress
I've been asked countless times about why I moved to WordPress from Blogger so I figured it was time I put fingers to keyboard and tell you my reasons. I started my blog in December 2008 on Blogger and it was working great for over a year. Then back in the Spring of 2010, things went a little crazy in the blogosphere. Blogger blogs began to be shut down by Blogger for no apparent reason. These were legit blogs on my daily reading list and the bloggers received no warning. Their site was there one minute and gone the next. I freaked. I had just started monetizing my site and growing my following and decided being on Blogger was too much of a risk to take. I seem to have the worst luck sometimes, and wanted to move my blog ASAP. So yes, fear was a factor in my decision- a big one!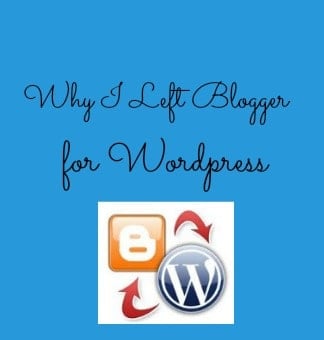 I actually have made a list of reasons why I prefer WordPress over Blogger:
I pay for my hosting so if my site goes down, I call my host's Technical Support and talk to a person and explain what's happening. In Blogger, it is very difficult (sometimes impossible) to get assistance in the Help Forums.
I own my site; on Blogger, Google owns it (and they host it as well).
I don't worry about my site being taken down by Blogger if it's flagged as spam. Many legitimate blogs have been taken down by Blogger this past year and some never to return. For example, Shelley's Swag was a blog I read and her blog disappeared. She was not a spam blog. Freebies4Mom was on Blogger and was shut down. They have since moved to WordPress. More recently, ChaChing Queen's site was shut down by Blogger. I thinks she was able to get it back up and running though.
The plugins are fantastic! There is literally a plugin for everything and they are so easy to install. I recently discovered the StumbleUpon plugin which allows people to Stumble my posts. I remember on Blogger I could NEVER get the TweetMeme code to work so that people could retweet my posts. On WordPress, it worked as soon as I installed the plugin.
I host my own images on my host's server and have no need to use Photobucket.
I love the themes and how many options there are available.
I know there's downfalls to WordPress too like the added costs, but it feels like they are worth it to me. I am very happy I switched!