Thai Kitchen Review
I love Thai food and the fact that Thai Kitchen® makes cooking Thai food at home so easy for the "average" cook like me is fantastic. I have used Thai Kitchen® products for some time and several items including their coconut milk are actually staples in my pantry. What I appreciate most is that the ingredients are of the highest quality natural ingredients. It is a product line that I can feel good about serving to my entire family knowing that not only is it nutritious but it is delicious too.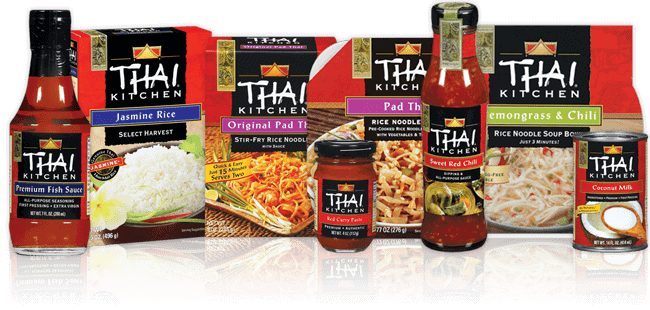 Does you "love" enjoy authentic tasting Asian cuisine? If so, then perhaps you might consider making a delicious and easy gourmet meal for Valentine's Day. I especially enjoy eating at home with my husband on Valentine's Day and make a special meal for the kids and then another separate romantic dinner for my husband and I to enjoy by candle light when the kids are in bed.
Thai Kitchen® makes it so simple to create a fantastic dinner by offering lots of recipes on their website and it includes the ingredients from their product line that you will need to have on hand to make it even easier. I recently made two recipes including the Thai Kitchen® Thai Fried Rice and Thai Kitchen® Red Curry Shrimp and both were so delicious. The flavors of fresh spices, fish sauce and vegetables really bring these dishes to life. My husband especially enjoyed the fried rice dish and my favorite was the red curry. I can't wait to make the Thai Kitchen® Banana Coconut Smoothie as a treat for my little ones because it sounds wonderful and in my opinion Thai Kitchen® has the best coconut milk that I have ever tasted.
I was not aware that Thai Kitchen®  had such a variety of products in their line and I can't wait to try the Rice Noodle Soup Bowls and the Jasmine Rice. You can view the entire line of Thai Kitchen® products on the website and be sure to make note of your favorites on your shopping list.
*I was not financially compensated for this post. I received a sample of the product for review purposes. The opinions are completely my own based on my experience.*