Joseph Allen Designs Review
Joseph Allen Designs creates one of a kind personalized hand stamped jewelry by designer Joseph Allen. In my personalize experience there is nothing quite as treasured as a personalized piece of jewelry. Joseph Allen Designs are carved and casted using only the highest quality Argentium Sterling Silver. The advantage to using Argentium is that it does not tarnish easily which makes it very functional too. There are personalized jewelry options to suite every situation and style. I really like the Hammered Collection with the Custom Hammered Discs (One, Two or Three) being a showstopper. You can even add birthstones to give it that extra special touch of sentiment. I was so thrilled to receive my personal favorite, a beautiful "Always Heart" hammered necklace that I personalized with my husband's name and a crystal for our anniversary month. I was even able to select the length of the chain which I really appreciate because I prefer a longer length and typically have to buy a new chain when I get a necklace set. I was so eager to see my necklace and I was overwhelmed when it arrived because it is such a lovely, classic piece that I don't want to take it off. My husband was so touched that I would wear a necklace that I had personalized with his name and he thought the hammering technique was fantastic.
I had never heard of Mokume Jewelry before and really appreciate unique pieces…. isn't it just lovely. The Mokume Heart Necklace is made of Argentium Sterling Silver and copper and can be hand stamped with up to 14 characters.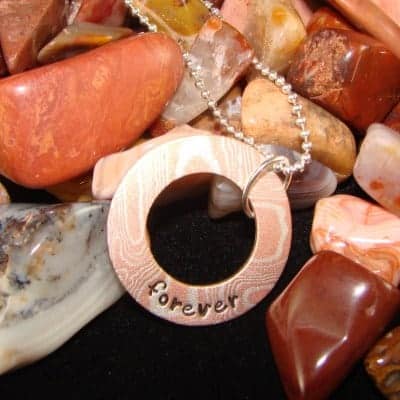 The attention to detail in the bracelets is exceptional and would make such a special gift.
The Satin Collection is beautiful. I have been looking for the perfect piece of jewelry for four years to give to my sister in honor of my beloved niece who passed away at age 21 but nothing every felt "right". When I saw the Large Forever Circle I just knew that this was it…..
If you are looking for a special piece of personalized jewelry and expect only the highest quality then Joseph Allen Designs will really deliver.
*I was not financially compensated for this post. I received a sample of the product for review purposes. The opinions are completely my own based on my experience.*