Book Review | Glad No Matter What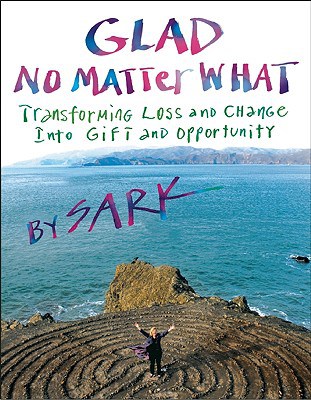 Title: Glad No Matter What: Transforming Loss and Change into Gift and Opportunity
Author: Sark
My Review:
This book is fun, lots of great colors for the text, not just plain black and white text reading it. It is in a wonderful format, easy to read and go through. We all have problems and things we are going through…it is how we handle those problems, or what we do with them that matters… I am classic example of all of this…
I have been through the wringer, took me many, many years to get over the fact my 2nd husband committed suicide, 3 days after my birthday. How do you ever find the silver lining and the good parts in something like THAT…… You don't really, you just learn to live through it… Now, 11.5 years later, I can look back on that time and see what lessons I needed to learn, and what I can help others through.
Life isn't about just going through your own life day by day, it's about doing what you can for whom you can too. It might not be money, it might be your time, or baking cookies for someone, or just lending an ear….There are times where someone else listening to a story can get something out of it that could be tried, something the person you are talking to didn't know, or try. Oprah once said "in order to heal you have to feel"….Ok, then you need THIS book to help guide you through things… Sark will give you other books to pick up, little tips, and a wonderful fun read in a colorful font!
For anyone who is having a hard time dealing with things…or trying to find the happiness through all the saddness… GRAB THIS BOOK! I know for me, I will be picking out pieces of the book and sharing on my blog, along with 4 other books that really have helped me lately! Start to look at the good times, be happy with what you have and work towards what you DO WANT! If that means you need to do some serious changing, then get to work, but do it gladly!
*I received a copy of this book to review but I was not financially compensated in any way. The opinions expressed are my own and are based on my observations while reading this novel.*