Accutire Programmable Digital Tire Gauge Review
Are you planning on traveling for the holidays this year? If so, have you checked the pressure in your tires yet? My husband is a stickler for checking the pressure in our tires before any road trip to give extra protection for our family. As he has explained to me in the past, if tires are properly inflated we will get extra MPG saving money on gas, the vehicle will be more stable while driving and we won't have to replace the tires as often. I always leave this task to my husband because it seemed way too complicated in the way that he did it but with the Accutire Programmable Digital Tire Gauge I felt confident that I could personally make sure that our tires had the proper inflation in the future.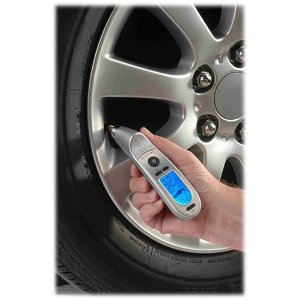 My husband got very excited with his new "man toy" and I think he would have checked every tire in the neighborhood if given the chance. I held him back and had him check our tires and my father-in-laws tires as he was leaving to make the 1,100 mile trip back home to Ohio. The Accutire Programmable Digital Tire Gauge lets you record factory recommended tire pressure for both front and rear tires and it even has an LED white flashlight in case it needs to be used in the dark. My husband said that it is very easy to use and he likes all the features. He does recommend using a simple "O ring" to get it to work perfectly.
Our neighbor, who recently went back onto the road as a truck driver along with his wife, thinks the Accutire Programmable Digital Tire Gauge would make an excellent gift idea or stocking stuffer and we agree!
This review and giveaway is sponsored by the Truckers Report.com
Our neighbor and his wife are having a blast on their adventures traveling the United States together and are earning a nice income too. If you are interested in learning more about becoming a truck driver then you should visit The Truckers Report.com and even take a practice test.
I received one or more of the products mentioned above for free using Tomoson.com and sponsored by Favorite Wigs Shop Name Brand Wigs at Low Prices! Large Wig Selection of Estetica Wigs, Quality Wigs. Regardless, I only recommend products or services I use personally and believe will be good for my readers. I am disclosing this in accordance with the Federal Trade Commissions 16 CFR, Part 255 Guides Concerning the Use of Endorsements and Testimonials in Advertising. Tomoson Product review & giveaway Disclosure.