Designers Who Do Blogger to WordPress Transfers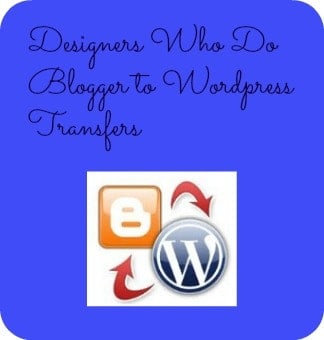 I am didn't trust myself to do transfer my blog from Blogger to WordPress and knew that I needed some help. Thankfully there's capable people out there who can do the job. For me it wasn't worth the stress to try and figure it out on my own. I don't regret for a minute having someone do it for me. It was a painless process.
I've made a list with designers that I have found online that do Blogger to WordPress transfers:
Blogelina: $99 includes free hosting for a year and a blogging bundle
Judith Shakes Designs: $100+ for Blogger to WordPress Transfers
Berries & Cream: $110 for Complete Blog Transfer from Blogger to WordPress
Japster: Packages start at $16 to $98
Wacky Jacqui's Designs: Ranges from $99 to $399
Technology for Moms: Various packages available depending on what you need.
Do you know of a designer who does Blogger to WordPress Transfers? If so, please share their links in the comments.