Blogging Success Summit 2011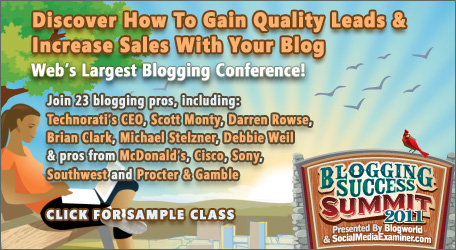 I just signed up to attend the Blogging Success Summit 2011! And the best part is I won't even have to leave my house to join 23 Blogging Experts at Web's Largest Blogging Conference!
Blogging Success Summit 2011 is a special online conference designed to help you master business blogging (brought to you by BlogWorld and Social Media Examiner). Join Technorati CEO Richard Jalichandra, Scott Monty (head of social media, Ford), Brian Clark (Copyblogger), Darren Rowse (author, ProBlogger), Debbie Weil (author, The Corporate Blogging Book), Douglas Karr (co-author, Corporate Blogging for Dummies) experts from Sony, McDonald's, Cisco,Southwest Airlines and Procter & Gamble; Jay Baer (author, The Now Revolution)and Michael Stelzner (Social Media Examiner)–just to name a few.
Michael Stelzner (and his team) have been working for months to bring the best minds in blogging together in this fully online event. More than 4,400 marketers and business owners from around the world attended his last two summits. Businesses were transformed. In fact, 95% of attendees said they'd attend again. This summit's focus is to empower you to implement successful blogging strategies, grow a loyal following, generate quality leads and sell with your blog. Twenty-three of the world's leading social media superstars will be summit instructors.
Remember, the experts teach the sessions live (and it's all online). So you don't need to leave your home or office! Go here to see how this works.
As a way of saying "thanks" for checking out the summit, there's a gift just for marketers called "Building Community with Facebook and Blogs" (valued at $59) waiting for you. Go get it here.
Here is just a sample of the sessions you can expect to find:
Turbo-Boosting Your Blog Traffic With Facebook
How to Improve Your Search Engine Rankings With Blogging
How to Create Compelling Blog Content That Brings People Back Again and Again
How to Grow, Engage, and Retain Blog Readers
How Big Businesses Are Leveraging the Power of Blogs
The great thing  is that if you miss a session you still have access to the recording and transcript for FREE!
The conference starts February 1 and runs to the 22nd and I like that its spread out so you can still get your day to day stuff done. For a limited time only, they are selling tickets for half price for the first 2500 people who register so don't delay in purchasing. I paid $297 and was able to break that down into two payments. I'm excited to learn and take my blog to the next level and invite you to join me at the Blogging Success Summit 2011!