Blog Spotlight: Review From Here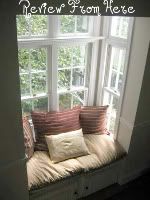 Today I would like to welcome Tracee from Review From Here. I had a chance to learn more about her blog and here's what she had to say…
Please tell me about yourself.
I have been married for 11 years and am mom to two wonderful daughters, ages 5 and 6.  When my oldest was born she needed open heart surgery for multiple Congenital Heart Defects so it has become my passion to help raise money and awareness for a cause that so desperately needs it.  I also have the greatest job in the world being a Virtual Book Tour Coordinator for Pump Up Your Book.  Besides CHDs and books I also LOVE cooking and have a website devoted to this as well called Glamourastic Eats.  After I started my site I thought it would be great to share my thoughts about the products that I try so that led me to start reviewing things around the house.  Hopefully my humble opinion helps someone make a choice that benefits their life. My life is good!
Please tell me about your blog.
My site started as an extension of my job but has grown, and hopefully will continue to grow, to be so much more.  I still use it to help promote authors and their books but have also started to add product reviews to go along with the book reviews and author info that is already there.  I hope to continue to focus on reviews and hope to continue to gain friends along the way.  I love making new friends!
How long have you been blogging?
This particular site is just over a year old but I have been blogging for over 4 years already – hard to believe.  I have had a hard time finding the site that was right for me, but think that this is it.
How did you get started?
I started when I decided to become a stay at home mom.  My girls still napped and I had some free time in the afternoon that allowed me to join sites such as Goodreads and Shelfari where I made many friends.  And, after I saw that people started blogs to keep track of the books that they had read I thought it was a great idea.  And, here I am, lol!
What kinds of products do you feature on your blog?
I will feature anything and everything!  I use so many different products that you will see an eclectic mix, and having two young girls and a Newfie, it means we are constantly trying new things.  I haven't received many products to try yet, so most of the reviews you see are things that I have purchased for our use.
What was your favourite giveaway?
To be honest, I haven't done too many but it would probably be when I was able to give away a copy of "The Host" – that made a whole lot of people happy!  I am hoping to be able to do more giveaways soon!
Who does your blog appeal to?
I hope that my blog appeals to anyone – currently I believe that the majority of people that visit are in the book community as well, but hope that as I branch out I gain more followers as well.
What direction do you see your blog going in the future?
My hope is that it becomes a place where people can come to see honest reviews of anything that I have read or tried in my house.  Now I just have to wait to have some PR agencies that are willing to take a chance on me
What is the biggest challenge you have faced so far with your blog?
Finding a style that fits me.  I have recently hired someone to help me re-vamp the look of my site so hopefully this will help ease my mind.
What do you love about blogging?
I love the freedom it gives me to speak my mind, and I also love to read the comments and see where they are coming from.  My FeedDemon is full but I keep adding more…it's a guilty pleasure!
Do you have a blogging pet peeve?
The one thing that gets me is that people think if you have a lot of followers you must have a great blog – that really isn't the case.  Using my work experience, we have found that there is no true way to gauge a blog, including a PR rank (this info was received from Problogger).  I think that everyone just needs to take a look at that blog and if you think it would be a good fit for you or your product, give them a chance.  Statistics aren't always a true reflection on who is visiting the site.
Do you have any advice for the readers entering your giveaway? newbie review bloggers?
Don't give up – it does get easier the longer you are out there.  And, I would also use a calendar to keep track of what you want to post about, it really does help.  If you have some free time, visit other blogs and leave a comment, it really helps form friendships along the way.
Tell me some of your favourite blogs that you read.
Well, this is one of them, lol!  I also love $5 Dinners, Cake Wrecks, Bookbitch, just to name a few.  There are really so many out there!
How can people find you?
You can find me at:
Glamourastic Eats
Twitter – amateurdelivre