Blog Spotlight | Mom vs. the Boys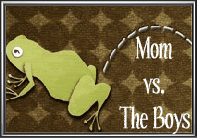 Today I would like to welcome Jennifer from Mom vs. the Boys. I had a chance to learn more about her blog and here's what she had to say…
Please tell me about yourself.
I'm a stay at home mom to 3 boys aged 4 and under, yeah, I was one of those crazies that had 3 kids in 3 years!!
Please tell me about your blog.
I blog all about my adventures with the boys and throw in giveaways for fun. I like to run 3-4 giveaways at a time. Not too many, but enough to keep it fun!
How long have you been blogging?
I have hit my 6 month blogaversary! yeah! I've come a long way in such a short time!
How did you get started?
I was searching cake decorating ideas and kept seeing 'so-and-so sent me' on a facebook page, I finally got so annoyed that I clicked on it to see what it was, I discovered a blog. I didn't really know what blogging was, so I started one the next day to find out. I was looking for something to get me through the long, boring winter being stuck in the house with boys.
What kinds of products do you feature on your blog?
Lots of different things, I need variety to keep me interested! I love testing products for women and kids. we have lots of little testers to try out kid stuff!
What was your favourite giveaway?
So far my favourite giveaway has been the PlasmaCar from Plasmart, but I have a few great things coming soon too
Who does your blog appeal to?
Other moms mostly or anyone looking to enter a giveaway
What direction do you see your blog going in the future?
That's a good question, I've only been blogging for 6 months and still feel very much like I have a lot to learn. I need change and variation to keep me from getting bored so I am always trying to learn new things like twitter and facebook pages. Right now I am interested in growing my blog and we'll see where it goes from there.
What is the biggest challenge you have faced so far with your blog?
Finding a design that I like without hiring a designer and keeping a balance with the giveaways and personal posts
What do you love about blogging?
I love to take photos, so it's nice to actually share them with someone and making new friends. I didn't expect that when I entered the blogosphere, but you really connect with so many other great people you wouldn't know otherwise
Do you have a blogging pet peeve?
I have tons, but my biggest pet peeves are captchas! please people, turn those nasty things off!
Another pet peeve is not having as many opportunities as other bloggers because I live in Canada 🙁
Do you have any advice for the readers entering your giveaway? newbie review bloggers?
for entering my giveaways- If I post a form, please use it!!!
for newbie review bloggers- don't give up! don't be afraid to ask more experienced bloggers for help
Tell me some of your favourite blogs that you read.
3 Little Monkeys
Laundry Hurts My Feelings
The Mombshelter
Mommy's "Free"Time
Things I Can't Say