2010 | A Year In Review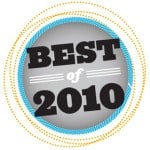 I am jumping on the bandwagon started by Scary Mommy and doing a "Year in Review" type of post.  So here goes my favourite posts of the year…enjoy! If you want to do your own "year in review" post, make sure to join the link up at Scary Mommy too.
January: My 2010 Resolutions (if you will notice I accomplished all my blogging ones, but didn't fare so well on my personal goals- oops!).
February: Sites to Join to Find Review Products and New Readers
March: Sites to List Your Giveaways
April: My Glasses Through the Years
May: How to Create a Successful Media Kit
June: Please Read If You Have a Blogger Blog
July: Different Ways to Monetize Your Blog
August: My Experience with Fat Cow Web Hosting
September: 10 Best Sites to Find Review Products
October: My Blissdom Canada Experience
November: V Awarenesss Week: My Story (Part One) & Facebook & Blog Giveaways: What is Allowed? & My Frustration with Google Page Rank (I couldn't pick just one…)
December: Bye Bye Google Page Rank! Hello mozRank!