How to Get a URL Before You Publish Your Post in Blogger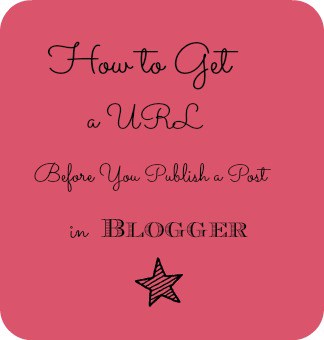 We have received several questions from bloggers participating in the Holiday Gift Giveaway Hop on how to get a link BEFORE you publish your post. I didn't realize that you could do this with Blogger until I talked to Cindi from Little Yayas. She has taken the time to give instructions on how to do this. Thanks Cindi!
There are times when we would like to have have a url link to a post that we don't have published on our blogs yet. You can require a url link previous to being published for several reasons.
For example, I am participating in the upcoming Holiday Gift Giveaway Blog Hop and would like to have my giveaway url in the link list with all the other blog links. This will keep them organized and make sure that all the links go live at the same time. BUT I don't want to publish my post early and I don't want people to see it before the event starts.
Is there a solution?
YES
This is what I have done and it has works great.
Step 1) WRITE YOUR TITLE. You can write your post if you like, but you don't have to. Just as long as you have the title. You could writing "Coming Soon" in the text body.
Step 2) Hit Publish Post
Step 3) Grab your URL. You can copy it and paste it on a page you can save and have access to it.
Step 4) EDIT that post. You will click on EDIT just like you were going to edit your post, only now you are going to click on SAVE AS DRAFT.
Step 5) SAVED. This will save it with all your published and unpublished posts. THEN you can SCHEDULE your post to go live at a future time and you are DONE!
This will help you get a url link in blogger without having your post be active.