FINISH Quantum and JET-DRY Turbo Dry Review
During the holiday season my dishwasher is working double time to keep up with all of my cooking, baking and family dinners. FINISH Quantum and JET-DRY Turbo Dry are two products ready to help keep my dishes sparkling clean while eliminating the need to pre-rinse and towel dry.
FINISH Quantum really takes dishwashing to a new level with these features:
Powerful Scrubbing Micro-Beads which soften burnt on foods (unfortunately a big problem in my home when I attempt holiday baking)
Powermax bleach granules attack tough stains like tea and coffee
Rinse Agent gel delivers an amazing shine
I was also very pleased with the shape of the FINISH Quantum individual capsules because it is the first design that actually fits the shape of my dishwasher's detergent holder. It has been very frustrating in the past to try to mold other brand capsules to my holder and sometimes it didn't even open during the wash cycle so I had to repeat it a second time. FINISH Quantum eliminated that problem with this nice square shape.
FINISH JET-DRY Turbo Dry is another new product that will help save you time and effort on dishwashing by solving the problem of water spots and wet dishes. This additive works by providing "superior drying as compared to using detergent alone."  I hate it when I have to waste time by towel drying dishes and silverware to remove wet spots left behind. I simply added the FINISH JET-DRY Turbo Dry to the reservoir and it automatically dispenses during the rinse cycle.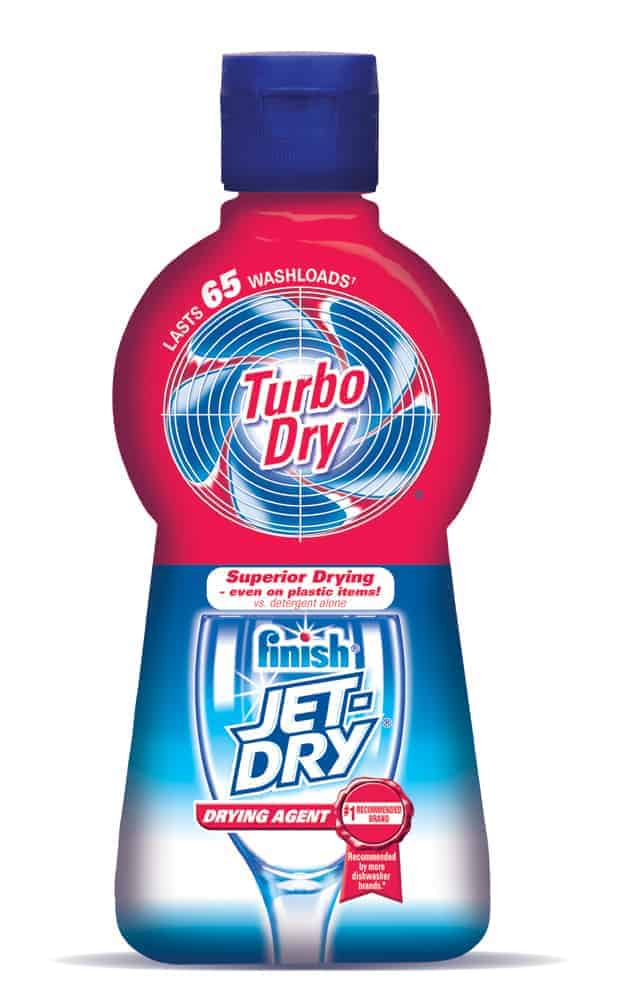 How did FINISH Quantum and JET-DRY Turbo Dry work? I had to use self control not to put on the pre-rinse cycle when running a full dishwasher after our Thanksgiving dinner. I was thrilled that my dishes and silverware were cleaner than ever and there was not caked on food residue or water spots to be found. I could also save water on pre-rinsing and put away my towel which gave me extra time to spend with my family and not have to worry about the dishes in the dishwasher that were sparkling clean. Now if FINISH would just develop a product that puts dishes away for me…..I would be all set.
FINISH Quantum and JET-DRY Turbo Dry were featured on Designing Spaces. I loved the tips and "do's and don'ts" of dishwashing because I realized that I was mainly a "don't" kind of gal.
I wrote this review while participating in a blog tour by Mom Central Consulting on behalf of FINISH and received a sample of FINISH Quantum and JET-DRY Turbo Dry. Mom Central Consulting also sent me a gift card to thank me for taking the time to participate.