Book Review | The Stress Effect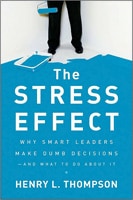 Title: The Stress Effect: Why Smart Leaders Make Dumb Decisions–And What to Do About It
Author: Henry Thompson
My Review:
The Stress Effect: Why Smart Leaders Make Dumb Decisions is a fascinating and long-overdue study of a phenomenon that, unfortunately, has dramatic, long-term effects on all of us.  This is no insignificant matter, as the great recession of 2008 showed us. But that's just one major event (or series of events) that exemplify the implications of poor decision making.
Henry Thompson uses examples like Enron and "The Miracle on the Hudson" to demonstrate the complexities — and disparities — in leadership and decision making.  This is a serious book, one that treats its subject matter almost scientifically.  That's not to say that it isn't interesting, because it most certainly it is.  If you have ever watched events unfold and questioned what in the world the leaders were thinking when they made their decisions, then this book is for you.
Another example of decision making is a flight crew that tried to solve what they perceived as a landing gear problem.  While addressing that issue (a serious one, no doubt), they failed to realize that they were running out of fuel — which they did, and crashed.  By the same token, there was the instance of Lieutenant General Honoré, who was in charge of coordinating the rescue efforts in the aftermath of Hurricane Katrina.  (Honoré was the leader who is credited for streamlining the Katrina situation after the initial bumbling and finger-pointing.)
Thompson explains the roles of cognitive intelligence and emotional intelligence as well as other factors that influence decisions — such as environment, age, nutrition, etc.  Decisions are made by human beings who are not immune to the very same dynamics that affect us.  And stress?  Once you factor that in, you can be subjected to confusion, loss of logic, inability to retain information…and that's just a few of the responses to stress.  The effect of stress on our health (physically, emotionally, and mentally) cannot be overstated.  The Stress Effect is a well-researched, strongly supported work on stress and decision making.  Anyone and everyone can benefit from this book.
*I received a copy of this book to review but I was not financially compensated in any way. The opinions expressed are my own and are based on my observations while reading this novel.*