Blog Spotlight | Nebraska Hockey Mom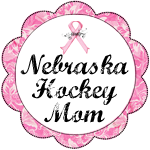 Today I would like to welcome Tonya from Nebraska Hockey Mom. I had a chance to learn more about her blog and here's what she had to say…
Please tell me about yourself.
I am a 30 something stay at home mom of an 11 year old boy, 9 year old boy, 5 year old girl and 2 year old boy!  I am the childcare coordinator for my church for bible study and Mops and I am very active in other areas of my church as well!  I am just now trying to figure out this blog thing!  It is a lot to take in and I have so little time to look at it with a VERY active 2 year old so it is slow going!  I have 2 dogs, a cat and 2 horses.  I am a former nurse and thinking about getting my masters in Biblical Counseling.
Please tell me about your blog.
It started as an informative blog for our out of state family members.  It also was tons of fun for me.  It is very relaxing to sit and journal.  I also had 4 journals started for each child that I wrote in every so often; it got to be too much, so I just started blogging about my kids wild antics someday I will give each child a disc!  I have started reviewing books and really enjoyed it!  I am excited to do more reviews and giveaways though my blogs first love will be stories about my kids day to day life and their quirky stories!!!
How long have you been blogging?
Only a little over a year or so.
How did you get started?
Like stated above I wanted to let our out of state family feel connected.
What kinds of products do you feature on your blog?
Right now just books have been reviewed and given away.I am still working on growing my fan base.
What was your favourite giveaway?
Any number of the books!  I LOVE BOOKS!
Who does your blog appeal to?
I hope everyone!  If they are interested in reviews, giveaways, and a Christian outlook on life, then they should love my blog!
What direction do you see your blog going in the future?
I hope that it grows into something that will help other mothers out there-financially, spiritually- you name it!
What is the biggest challenge you have faced so far with your blog?
I am horrible at computers!!  Trying to get everything figured out with the blog- all the verbage, etc.
What do you love about blogging?
The thought of helping others!  It is also a bit of a journal for me and I love that I can still stay home with my kiddos!
Do you have a blogging pet peeve?
Just the fights I have with my computer!
Do you have any advice for the readers entering your giveaway? newbie review bloggers?
My followers are so few- ENTER your chances of winning are GREAT!!!!
Tell me some of your favourite blogs that you read.
Simply Stacie, CoolestMommey, Coastguard wife, 2 Candid 2 Tired..
How can people find you?