Blog Spotlight | I'm Just Your Average Mom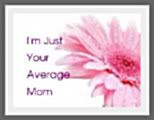 Today I would like to welcome Tracey from I'm Just Your Average Mom. I had a chance to learn more about her blog and here's what she had to say…
Please tell me about yourself.
My name is Tracey and I am a soon to be single, 40-something mom of a 12 year old girl.  I work fulltime in the Planning and Development Services Department for my local municipality. I live in Arizona which right now in the heat of the summer wish I lived somewhere cooler.
Please tell me about your blog.
My blog is called I'm Just Your Average Mom. Since I work fulltime and have many interests and hobbies such as sewing, crafting, cooking, gardening and parenting, I figured that I was just like any other average mom trying to get through a busy life.  It is a bit about what is happening in my life with giveaways and reviews sprinkled in.  I like to review items that pertain to the 40-something woman.
How long have you been blogging?
I have been blogging for just under a year.
How did you get started?
I started blogging when I began my Avon business and had a blog dedicated to Avon.  When that didn't pan out for me I decided to start my I'm Just Your Average Mom blog.
What kinds of products do you feature on your blog?
I feature products that the 40-something woman would like as well as products for tweens.
What was your favourite giveaway?
My favorite giveaway was the Soda Stream Home Soda Maker- perfect for a diet cola addict like me!
Who does your blog appeal to?
Even though I try to tailor my blog to the 40-something woman, I believe women of all ages can benefit and enjoy my blog.
What direction do you see your blog going in the future?
I would like to keep holding reviews and giveaways.  I also recently started Weight Loss Wednesday and have a Mr. Linky so we can share in each other's successes or weight loss tips.
What is the biggest challenge you have faced so far with your blog?
Getting enough time!  There never seems to be enough time!
What do you love about blogging?
I love the camaraderie of my fellow bloggers, and of course, getting free products is a definite plus!
Do you have a blogging pet peeve?
Spam comments!  Once I switched my blog to WordPress, I started getting spam comments like crazy! I also do not like leaving comments on Blogger blogs, especially if they have word verification turned on.  Their word verification doesn't seem to be working lately so it takes a long time.
Do you have any advice for the readers entering your giveaway? newbie review bloggers?
Usually the mandatory entry is by leaving a comment.  If you do the extra entries, the chances of winning are so much better.  In fact, I think most of my winners have been from people who have done the extra entries (Like on Facebook, re-tweeting, etc).
Tell me some of your favourite blogs that you read.
Male Pattern Boldness, Selfish Seamstress, McMama, Tip Junkie, SITS
How can people find you?
They can find me at http://www.imjustyouraveragemom.com or on Twitter as youraveragemom and Facebook as http://www.facebook.com/#!/pages/Im-Just-Your-Average-Mom/105355529506645