Blog Spotlight: 1 Prince and 3 Princesses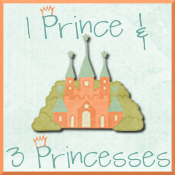 Today I would like to welcome Brodie from 1 Prince and 3 Princesses. I had a chance to learn more about her blog and here's what she had to say…
Please tell me about yourself.
I am a stay at home mom of 4 kids ages 2-9.  I am starting my 3rd year of homeschooling.  I am a Christian who wants more than anything to raise my kids to love Jesus.  When not taking care of the kids and all that goes along with them I love to read and hope to someday start scrapbooking again!
Please tell me about your blog.
I love to review products that are family friendly, I am also trying to get Handmade items to feauture- I am not crafty and admire(am jealous) of those that are!
How long have you been blogging?
I had a family blog for about 3 years, I switched to my current blog 1 Prince and 3 Princesses and that started in October 2009
How did you get started?
Mostly to keep up with family, then I entered a giveaway and realized that I loved it.  I wanted to write reviews and share about the products that I liked and that started everything.
What kinds of products do you feature on your blog?
Everything is family friendly- from clothes, toys, books, food- anything that I think would be good for other moms/dads and their kids.
What was your favourite giveaway?
The Milson Road Portrait-I loved mine and thought it was a great giveaway.
Who does your blog appeal to?
Those looking to win a product- mostly moms with kids.
What direction do you see your blog going in the future?
I really hope I can get a larger audience, and really would like to gear more towards handmade items and those that make them.
What is the biggest challenge you have faced so far with your blog?
I think alot of companies aren't willing to give small blogs a chance and they stick with the big name blogs- it gets discouraging -companies need to remember they were small once too!  Also getting PR ratings- somehow mine disappeared right when my blog was getting the most views.
What do you love about blogging?
Sharing my opinions on products- I am not an outgoing person, but this gives me a "voice"
Do you have a blogging pet peeve?
Writing about a topic that I feel strongly about and not getting any comments or feedback.
Do you have any advice for the readers entering your giveaway? newbie review bloggers?
Newbies don't always get that they need to leave a comment for each thing- I always feel bad for them b/c they don't enter it right.
Tell me some of your favourite blogs that you read.
I love my 5 kids, Raising Olives, and the MOB Society (and yours of course 🙂
How can people find you?
Facebook and twitter- and they can email me through my blog