Book Review | Forever Lily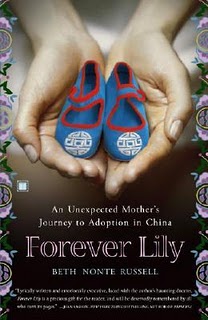 Title: Forever Lily: An Unexpected Mother's Journey to Adoption in China
Author: Beth Nonte Russell
My Review:
Beth Nonte Russell had always said she wanted children, but she and her husband had never actively pursued starting a family. Instead, Beth focused on traveling and academic endeavors. When Beth's friend Alex invited her to join her on a trip to China to pick up the daughter Alex would be adopting, Beth never expected that this journey would be just the beginning of a new adventure for her and her husband–parenthood.
Beth looked at this spontaneous traveling opportunity to see a part of the world she had never been to before. On seeing how the children were cared for in the orphanage, Beth was deeply affected. It was as if fate had brought Beth to China; in a strange twist, it was Beth who bonded with the small baby who seemed younger than her 13 months. As Beth grew more and more attached to Baby, Alex went back and forth on whether or not she would make the adoption official. In a moment of sheer desperation, Alex asked Beth to adopt Baby instead. With all of the rules and restrictions for overseas adoptions, would it even be possible for Beth to keep her?
I have a beautiful goddaughter who was adopted from South Korea. Her biological parents were unmarried, and the father did not want to marry the mother and give the child his family name. After having been blessed with 3 boys, our family friend looked into adoption. Her youngest sons were born when she was nearly 40, and there would have been no guarantee that if she conceived again on her own she would have the little girl she had always longed for. I was inspired in part to read Forever Lily: An Unexpected Mother's Journey to Adoption in China because of my adorable goddaughter. I know that this is also a story that my friend can relate to, and I plan on sharing it with her.
Beth's story is seriously incredible. I can't even begin to imagine what it must have been like for her and her husband to make the adoption happen. Though Alex was not presented in the best light, I still felt a bit sorry for her, and was slightly sad to read in the author's interview at the end of the book that their families are no longer in contact. Ended friendships are always difficult, but I understand completely why the two families chose this.
Forever Lily is honestly written, informative, and even spiritual. If you didn't believe in reincarnation before, Beth's story might just change your mind. I got chills as I read certain passages.
Beth is the founder of  GoodTrueBeautiful, Inc. (a line of perfume that was inspired by her memoir) and the Golden Phoenix Foundation (developed to help end the abandonment of children throughout the world). She's also currently busy working on a screenplay for a film adaptation of Forever Lily, which is going to make a terrific movie. This is definitely one I don't want to miss in theatres!
*I was not financially compensated for this review. I received a sample of the product for review purposes. The opinions are completely my own based on my experience.*