Blog Spotlight | Esavingsblog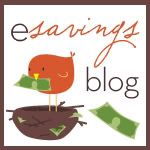 Today I would like to welcome Kari from Esavingsblog. I had a chance to learn more about her blog and here's what she had to say…
Please tell me about yourself.
I am a 30 year old female working in the technology field for 10 years
Please tell me about your blog.
Esavingsblog is a blog that focuses on great deals I find on the web and off, coupons and frugal living and Reviews and Giveaways!
How long have you been blogging?
How did you get started? My blog www.esavingsblog.com was created over a year ago as a way for me to share all the great deals and coupons I was finding and emailing my friends with. I then went on to offer reviews and giveaways as a way to give back to my readers. I also just started a new blog http://www.trendygirlreviews.blogspot.com/ which is a work in progress but is focused on trends, products & more.
What kinds of products do you feature on your blog?
I feature Family Friendly Products
What was your favorite giveaway?
My favorite giveaway so far is a Scrubbing Bubbles GiftPack I created myself and put up as a giveaway.
Who does your blog appeal to?
My blog should appeal to anyone but I believe most of my followers are women 🙂
What direction do you see your blog going in the future?
I hope to hold a bunch of great giveaways, offer more great deals and bring some financial tips to my blog. I am always looking for ways to expand my readership.
What is the biggest challenge you have faced so far with your blog?
My biggest challenge was getting it out there, design even though I am technical was hard as well because I am always changing things up.
What do you love about blogging?
Blogging is a passion, I love to share my opinions and great finds. I love to be able to offer chances to win prizes and I love the people I have met blogging.
Do you have any advice for the readers entering your giveaway? newbie review bloggers?
Just to READ all the entry requirements Please. Newbie advice, you have to stick it out! It is hard work to get a blog going and get it out there.
Tell me some of your favorite blogs that you read.
Some favorite blogs would be : kouponkaren, frugalcouponliving and many more!
How can people find you?
I am always at www.esavingsblog.com, you can follow me on Google Friends Connect, Twitter @esavingsblog and on Facebook! I also just signed up for networkedblogs so I need followers :-).