Blog Spotlight | I'm A Lazy Mom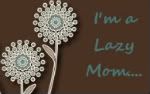 Today I would like to welcome Stacey from I'm A Lazy Mom. I had a chance to learn more about her blog and here's what she had to say…
Please tell me about yourself.
My name is Stacey and I was born and raised in Texas. However I went off to Bible College and ended up marrying a "Yankee" and currently live "in the north" (do you Canadians even know what that all means? ). Anyway, my husband is a Pastor, which automatically makes me a (dun, dun, dUUUUUn) "Pastor's wife." Yes, I'm one of those. I'm also a stay at home mom, although now that my kids are all in elementary school, I guess I have now crossed over to being a "homemaker".
Please tell me about your blog.
My blog is called I'm a Lazy Mom…. It has a double meaning to it though and you'll have to visit our "About Us" section on our blog to see what we really mean when we say we're lazy moms!
How long have you been blogging?
I have personally been blogging since 2005, in fact July 5th was my 5 year anniversary! But I'm a Lazy Mom…. has been around since 2007.
How did you get started?
A friend and I started it back in 2007 after a conversation she had with a neighbor who was basically "helicopter parenting" and my friend told her (tongue-in-cheek) that she needed to get lazy! Oh, just go read our About Us section and you'll get it!
What kinds of products do you feature on your blog?
We feature family friendly products as well as products that help make a lazy mom's life lazier (read: easier!).
What was your favourite giveaway?
We've pretty much just started doing giveaways on our blog. We have a lot of them scheduled for later this summer though, so stay tuned! My favorite giveaway to date is our Family Game Night one. I just love the mission behind their games, which is to get families to have fun together around the dinner table! (please note: this giveaway is closed)
Who does your blog appeal to?
My blog appeals to moms who don't fit the "super mom" mold. Which, by the way, is ALL of us! We also have a smattering of lazy dads, lazy grandmas and others that follow us though.
What direction do you see your blog going in the future?
I see us continuing on with our very popular Lazy Mom Tips, more great Lazy Mom Confessions and another big hit on our blog has been our Lazy Mom Recipes (recipes so easy even a lazy mom can do it!). I am also very excited about something that is coming to our blog in August (but I can't tell you about it yet!). There are some great things in store for our lazy, lazy blog! So you better subscribe to us so you don't miss any of it!
What is the biggest challenge you have faced so far with your blog?
Coming up with Baby/Toddler tips. I don't have any children in that category yet, so we are a little lacking there!
What do you love about blogging?
Blogging about being a REAL mom is very theraputic. I also love being a resource for other moms and make them laugh about motherhood!
Do you have a blogging pet peeve?
I guess my only blogging pet peeve is that there are SO many blogs out there that are all very similar. It's kind of hard to find original, interesting blogs these days.
Do you have any advice for the readers entering your giveaway?
Just read the rules at the bottom of the giveaway posts and you'll be fine!
newbie review bloggers?
Don't be afraid to ask other review bloggers questions. I've gotten a lot of great advice and help from other bloggers.
Tell me some of your favourite blogs that you read.
I really enjoy Homemade Mamas blog (www.homemademamas.net)
I like the concept behind Love, Actually's blog (www.loveactually-blog.blogspot.com)
I love to look at the quilts that The Empty Bobbin creates (emptybobbins.wordpress.com)
And other various friends' blogs that keep me updated on their lives!
How can people find you?
They can find my blog at www.imalazymom.com
They can find me on Twitter at www.twitter.com/imalazymom
They can find me on Facebook at http://www.facebook.com/pages/Im-a-Lazy-Mom/124680460904856