Blog Spotlight | Diabetic Snacker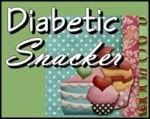 Today I would like to welcome Barb from Diabetic Snacker. I had a chance to learn more about her blog and here's what she had to say:
Please tell me about yourself.
I'm Barb Gary, divorced after 25 years,2 grown kids, a blogger who loves to bake & write about it. I'm also type 2 diabetic with health issues and I am legally blind since birth.
I now live with my 2 sons at their new house they bought about 10 years ago. The three of us get along really well. They work at a Spa manufacturing plant  about 5 minutes from our home. So during the day I have the whole house to myself and I'm on the computer a lot!
We live in Indianapolis, Indiana and I'm 54 years young. I hate to say old!
Of course actually, I'm on it in the evenings a lot too! We do follow a lot of television series though so I do have to find time to keep my Tivo caught up! I'm especially a big fan of all the cooking programs!  Sure, I have to sit 1 foot in front of the tv to see it but I get the job done! That's why I love the  computer so much it gives you the whole world at your fingertips and you can make everything as
large as you need it to be! Mine is set at 200% so  this computer is just for mom as nobody else can read anything on it.
Please tell me about your blog.
My blog is Diabetic Snacker at: http://diabeticsnacke.blogspot.com/ It's a food blog where I talk about baking,recipes,tips and tricks,product reviews and difficulties faced by low vision people in our everyday lives.
How long have you been blogging?
I've been blogging since June of 2008 and I enjoy every minute of it. I love comments and followers and interaction that only blogging can bring to life.
How did you get started?
I got started because I was so mad a t a company for something that was wrong with their packaging. It was impossible to open even for a sighted person so I wrote a post about how horrible the experience was and I've been doing product reviews on products ever since.
I feel companies need to know when their packaging is not perfoming as it should. I also like to do giveaways but I enjoy entering them even more!
What kinds of products do you feature on your blog?
I feature any product from A-Z on my blog. I do lean a bit toward the healthier type products since I need to stay focused on that myself. Diabetes however is  all about moderation so I will do a review for any food or product with no problem.
What was your favourite giveaway?
That would be the SodaStream that just ended! I got to do a product review on one and I absolutely love using it everyday to make my own diet soda!  I also recently won another one so I'll have a spare for a Christmas Gift! I love getting great products for free.
Who does your blog appeal to?
My blog usually appeals more to the health minded individuals but now that I have taken on many more giveaways for companies the appeal has changed. Now the visitor's are all there to enter my giveaways which is fine by me. I'll still keep adding recipes,tips,
diabetes information along the way as I can to help others out more.
What direction do you see your blog going in the future?
I feel my blog has come full circle now that's I'm concentrating on product reviews and giveaways. I also accept guest posts. There are links for bloggers to submit their blog link on my site too.  I hope I see my blog reach 250 visitor's someday! Right now I'm at
109 google friends connect followers and it's been a long road getting that far!
What is the biggest challenge you have faced so far with your blog?
My biggest challenge is catching my spelling errors before I post a blog post. Because of my limited vision I tend to miss a few things sometimes.
What do you love about blogging?
I love how blogging gives me some energy to keep going every day. No matter how bad I feel or what household disaster is happening at the moment, if I write about it on my blog it helps to handle the situation. I love how you can go and visit other blogs and leave comments about them. It's like a entire universe of new friends helping each other out to grow bigger and better all the time.
Do you have a blogging pet peeve?
Yes, I hate it when someone leaves a comment on a giveaway post with no email to contact them if they happen to win! Bugs the living daylights out of me! I try to have mine in my google profile and leave it in each of spots I enter. It's frustrating to have to choose another winner because you have no way to reach someone.
Do you have any advice for the readers entering your giveaways?
Yes Enter more than one those bonus entries really help! I have been winning a few giveaways myself and usually it's always one of my bonus entries that was chosen.
Leave your email address on the entry but put AT instead of @ so you don't get spammers.
Say something relevant to the sponsor or the product in your comment. Not just enter me,count me in. Comment love goes a long way and it's usually got some karma attached to it so do it right.
Newbie review bloggers?
Well actually I am a newbie to the review blogging world so I'd love to hear some of these tips anyone has left myself. I have learned one thing though; It never hurts to ask! You might just be surprised at the answers you get. Two days ago I asked Zuvo water products about doing their Water countertop pitcher that sells for $19.95 and instead they emailed they are going to send me the $299.00 entire system and one for a giveaway! So ask away ladies!
Tell me some of your favourite blogs that you read.
OMGoodness I read way too many blogs!
That would definitely be your blog at the top.
I also love
reviewretreat
serious eats
upstate ramblings
80 mph mom
networked witches
leslie loves veggies
my thrifty wife (who I saw just started working with you, better luck
to me next time)
I have over 2,000 blogs I follow by rss reader using my great google reader! I also follow many by email  so I can stay on top of all the great giveaways going on all over the internet.
I could literally spend all day (18 hours) just entering the giveaways and never run out! Of  course I don't have that much time to do that anyway.
That's how many great ones there are right now! You can't win if you don't enter. I sometimes will just even put one single entry in if I'm in a hurry and believe it or not that has won many a time!
Also don't let people tell you that the low entry numbers never win because I've won with #1,#3,#5 and everything in between. It's all about your luck that's all there is to it!  I love winning giveaways because it allows me to help with the family budget. The more items I win is the less I have to buy and use my son's hard earned cash! They appreciate that and I love it!
How can people find you?
Oh I'm all around I can be found easily!
Diabetic Snacker
http://diabeticsnacker.blogspot.com/
Email: directorylanesuperstoreATgmail.com (ebay name)
http://www.facebook.com/barbaragary
http://www.twitter.com/dlsblogs
Our eBay Store where we sell Plus Size Sport Bras, New Dvds, Hookless Shower Curtains and a variety of other goodies
Right now we even have 2 brand new wedding dresses for sale with best offer on them! They are beautiful so you never know what you'll find in our store!
Located Here:
http://stores.ebay.com/Dvd-Vision-Hookless-Shower-Curtains
I'm also participating in Blogmania this year with2 blogs!
Here's a sneak peak of the Blogmania event on the 2 blogs so far!
NuNaturals Kits 4 winners
SodaStream System
Cookbooks Galore  3 winners
More goodies to come!
My 2nd is just for shower curtains: http://hooklessshowercurtains.blogspot.com/
I hope your readers will come visit my blog and follow me if they have time!