Blog Spotlight | Adventures of the Domesticated Mama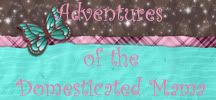 Today I would like to welcome Kime' from Adventures of the Domesticated Mama. I had a chance to learn more about her blog and here's what she had to say…
Please tell me about yourself.
My name is Kime' of course it's pronounced Kimmy. I am 31 and a fulltime mom to 6 wonderful kids. Joshua who is 12, Cody who is 11 1/2, Catlain who is 11, Abigail who is 9, Faith who is 2 1/2, and last but not least Hannah who is 13 1/2 months. I have a wonderful husband named Scott whom I love dearly. I homeschool my kids and have been homeschooling now for 7 years. I love it and wouldn't change it for nothing in the world. I love to bake! Which is a bad thing when you are trying to lose weight. I love sewing, knitting, crocheting, reading and spending time with my family.
Please tell me about your blog.
My blog is named Adventures of the Domesticated Mama. I came up with the name because I am a mom and am very domesticated as their is nothing I can't do unless of course I don't set my mind to doing it. In my family everyday is a adventure.
How long have you been blogging?
Well that's a good question I started some in 2007 but then I stopped. I picked it back up in April of this year and have been ever since.
How did you get started?
I got started the first time as I wanted a place to share what I was doing. But this time I talked to a friend of mine who did a review/giveaway blog and asked her how she got that started that is how I got into doing reviews and giveaways. I was also a part of Buzzagent too so I would post reviews on products from them as well.
What kinds of products do you feature on your blog?
I feature a little of everything as I have a big family and kids of all ages. I try to make sure all my products are family friendly.
What was your favourite giveaway?
My favorite giveaway would be a toss up between Miskko Corioliss Classic Pro Flat Iron as it seems that it has gotten the most excitement out of my readers.
Who does your blog appeal to?
My blog appeal to I would defintely say women and moms.
What direction do you see your blog going in the future?
I am hoping to see my blog grow more and more. I want to be able to offer more great giveaways to my readers.
What is the biggest challenge you have faced so far with your blog?
Just juggling my time and getting my blog out there and building up my readership.
What do you love about blogging?
I love meeting new people and reading my comments!
Do you have a blogging pet peeve?
I can't say I have one at this time.
Do you have any advice for the readers entering your giveaway?
Oh yes! Do the Extra Entries! That is how I have won many a giveaways myself! Make sure you leave appropriate amount of comments. I see alot of people not doing that so they miss out on some extra entries. Like if it says 2 entries next to say follow me publicly and you don't leave 2 seperate comments you won't get that other entry.
newbie review bloggers?
I would have to say set up yourself a media kit. It never hurts to email the companies that you would like to do a review for. The worst they can say is no.
Tell me some of your favourite blogs that you read.
A Mom's Take, RaisingMy4Sons, Crazyhouse, Review Retreat, Little Yaya's, Simply Stacie, and many many more I could go on and on
How can people find you?
You can find me at Adventures of the Domesticated Mama, twitter @momof_many, and [email protected]